Israeli food? Now that's something of a missing cuisine here in Sydney insofar as restaurants or cafes go. Shenkin is a family business with five brothers, two of whom work here and one brother who owns the Max Brenner franchise (yes the Max Brenner franchise). As befits a family business their father bakes all of the cakes and pastries himself and the breads are home made too. One of the brothers tells us that their grandparents owns a bakery in Israel that is still operating now under the helm of their grandmother now that their grandfather has passed. And as for the name? Shenkin is named after the famous Shenkin Street in Tel Aviv and a photograph of it sits in prime position above the pastry display.
Making siphon coffee
A picture of Shenkin Street above the pastries
Given a renovation merely a week ago I was put onto it by the lovely @InnerWestMumma. The space is airy and welcoming and there is a window that opens up to the street so that patrons can order coffee from outside which also acts to open up the room and give it a breeziness on this hot, stifling Sydney weekend. There are also two other sections in the back and on in the side on the outside where diners can sit.
While we are waiting for our food I find myself lured to the pastry display (what's new right?) and a friendly voice asks if I need any help. Service here is uniformly friendly and warm and there's not a single snippy one in the bunch. The waitress talks me through all of the cakes but I think I have my heart set on the Napoleon. I am a vanilla slice freak from young and this one looks heavenly. "I'll be back for you later!" I whisper to it under my breath giving it a sidelong glance.
Lemon and mint frappe $5.50
When we sat down one of the brothers (who later introduces himself as Din) asks us what we would like to order to drink. "Something refreshing? Do you want me to choose?" he asks and we nod. He ends up bringing the two drinks we had our eye on on the menu. The lemon and mint frappe is refreshingly sweet and tart with the freshness of mint and a scoop of lemon sorbet. Like an icey cold lemonade but better.
Pina Colada frappe $5.50
The alcohol free Pina Colada frappe is gorgeous with a perfect blend of coconut and little pieces of pineapple and is refreshingly tropical. Both drinks are perfect for this sweltering Sydney day.
Shakshuka $14.50 with labne $2.50
To quote Rachel Zoe "I die!". This is the dish that I wished all baked egg dishes were like. The tomato, capsicum and onion stew is rich and not watery in the slightest (some tomato baked eggs have watery tomatoes) and within it are two gently poached eggs that are soft and wispy throughout the rich tomato sauce. It comes with two rounds of soft, fluffy pita bread and we opt for an extra side of labne which comes with herbs, chilli, a chopped cherry tomato and oil. This is the kind of vegetarian food where you don't even miss the meat. In fact we only realised after it was all set down that we had an all vegetarian meal. There are regular sorts of dishes as well like French toast and bacon and eggs etc but the Israeli dishes looked far more interesting.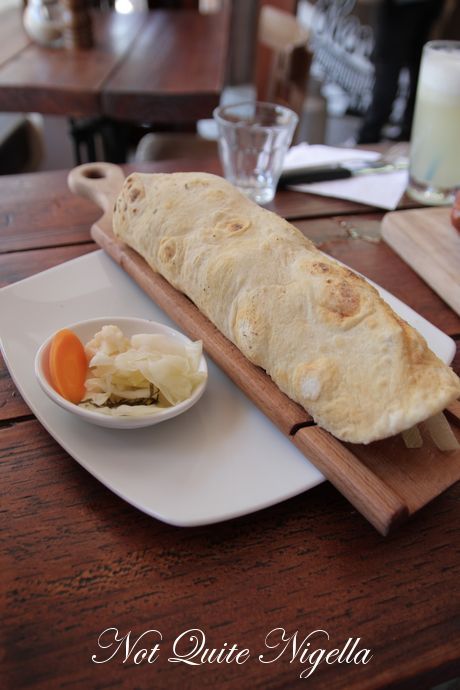 Shenkin Wrap $13.90
The Shenkin wrap is made using a freshly made pita bread with three large baseball sized felafels, tomato, lettuce and hommous. The felafel are fantastic-quite different from the ones you might find at Lebanese restaurants obviously as they are different cuisines. These felafels are large and moist inside and absolutely moreish.
Burekas Spinach fetta $9
The burekas is a puff pastry simply filled with spinach and feta and an enormous side salad. It's good (and I like the salad with a bit of the labne from the Shakshuka) but I have to admit that the Shakshuka and the Shenkin wrap completely stole my heart and accompanying stomach allowance. Plus.... ahem there is pastry to attend to!
Chocolate Mousse $6
There were lots of varieties of chocolate mousse (and being part of the Max Brenner family must mandate that no?). After much dithering both at the table and at the pastry display I ordered this enormous duck egg sized dessert. It's milk chocolate ganache circled by dark chocolate ganache and then dusted with cocoa. It's rich and fudgey and would keep any chocoholic staving off chocolate pangs for a while.
Vanilla Napoleon $6.50
I am besotted by the vanilla napoleon with the creamy, light vanilla custard sandwiched together with two layers of crunchy home made puff pastry, the top layer dusted with icing sugar. The key to this is the dreamy custard with just the right amount of sweetness, vanilla and wobble. It is also enormous, I didn't get out a measuring tape but at least 7x7 or 8x8 cms wide and a few centimetres high. Despite wanting to devour every crumb I am forced to leave some behind due to lack of stomach space.
Curious about all this siphon talk and experimentation Mr NQN asks if he can order one. They are still at the training and testing stage but Ian who has been tending to the siphon machine brings over a range of single origin coffees and we take his recommendation for Ethiopian blend. Siphon coffee is said to be a cross between coffee and tea and is a coarse blend of coffee similar to a paper filter but not as coarse as a plunger grind. It is also said to be best sipped and aerated over the tongue and preferably drunk not when it is piping hot when it is first ready but once it has cooled down and the flavours emerge. And never, ever add sugar to siphon coffee!
Siphon coffee (Ethiopian blend) $4.50
We watch Ian standing at the counter in front of what looks like laboratory equipment with his iPhone to his left counting down the seconds to 50 seconds. Once the staff are trained, the siphon coffee will be sold to the public within a few weeks using Proud Mary coffee from Melbourne. They take their coffee seriously and store it in a vacuum packed seal container so that it doesn't lose any of its aroma. So what is it like? It's actually very good indeed. I don't consider myself a coffee expert by any means but it was very drinkable and Mr NQN was a big fan and he finds that it tastes quite chocolatey.
Before we know it we've spent a couple of hours here, only intending to stay for a quick lunch but the welcoming atmosphere and food seduces us to stay. Back to life and back to the grocery shopping!
So tell me Dear Reader, are you fussy about your coffee and how many do you drink a day?
Vacuum pack containers
Shenkin
53 Erskineville Rd, Erskineville, NSW
Open 7 days from 7am until 5pm