If you look at the wall of photos in our apartment you will see a few photos of Mr NQN and I growing up and some present day ones with friends and family. One thing that people love to comment on is the fact that the lanky, tall Mr NQN of now used to be the fattest, podgiest baby ever with copious rolls of fat on his arms and legs. More surprisingly was the fact that until he was about five or six years old he only drank breast milk and ate raw food. His mother delighted in the easy preparation of raw food that back then also entailed not cutting the food and eating it as whole as possible. Dinner would be presented as a whole cabbage with each child tearing off a leaf.
I told you the Elliotts were unusual didn't I? ;)
Raw food isn't quite the same today as it was back then and has thankfully gotten a lot more exciting than raw cabbage leaves or raw potatoes. I know the idea of pitching the idea of a cold dessert while we're in Winter here may seem doomed to fail when all one  wants is a pudding. But please allow me to stand at the podium and give you a hard sell. In my corner, or should I say in my kitchen at home I have Skye Craig, Masterchef Season 2's dessert gal who wowed the hard-to-please judges with a dessert. Not only that but it was a gluten free, raw chocolate dessert made with avocado.  And here she was in my kitchen to show you and I how to make it!
Skye has just launched her new range of ice creams and dessert under the name of "Wild Sugar" which are now available at Thomas Dux stores in Sydney as well as a range of stockists in Brisbane and Queensland. A former graphic artist she closed down her own business to go onto the show and pursue her dream of working in food. Her focus is on desserts with an emphasis on raw desserts and native produce and her favourite native ingredients are wattleseed and lemon myrtle.
One sunny afternoon Skye arrived at our apartment. And I should add that she's a nice guest ignoring the mess and the boxes and boxes of things ;) Armed with a roll of knives and all of the necessary supplies she is ready to make her famous raw dessert, a chocolate avocado mousse, said to be her signature dish and one that sums up her personality. Given how popular the raw chocolate brownies were on the blog people are becoming more curious about raw food!
A former vegan of one and a half years she now eats meat but eats raw food as much as possible. Like many she finds eating raw during the warmer months easier whilst during Winter she craves rich items like stews. And having been through the whole Masterchef process she is used to the cameras and stops and positions things for me to photograph them (a dream subject!).
"A version of this dessert saw me through the first round of auditions for Masterchef in Brisbane" she says. "Then for our signature dish for the Masterchef top 50, I created a plate with two desserts on it. The chocolate avocado mousse and Lemon Myrtle and raspberry semifreddo (made of cashew cream). This dish saw me in the top 7. There was a certain amount of intrigue with the green stuff going into the blender and then pure delight from George once he had tasted it."
You do need a blender or food processor in order to make this (she recommends Vitamix for smooth purees) and can't really be done without one as you won't achieve that super smooth consistency. The flavour of this rich chocolatey avocado dessert is delicious and unusual. Like the brownies you can't taste the avocado but it lends the mousse a creaminess along with the coconut milk. The raspberry layer adds tang although if it's too much of a production I'm sure you could just have the nutty cashew layer at the bottom topped by the voluptuous mousse.
So tell me Dear Reader, have you ever tried a vegan, raw food or vegetarian diet? And did you feel better for it? Have you kept to it?
Chocolate Avocado Mousse with Raspberry Cream
Skye says: Let yourself truly indulge and delight yourself with this silken smooth chocolate mousse with raspberry. Super easy to make, all you need to arm yourself with for this adventure is a blender, a food processor and a spatula. If you're someone like me, you may feel compelled to eat sweets every day. I have created this chocaholic style dessert for people who want a healthier option using whole ingredients that function as natural medicine for you. That way you can take care of your body while taking care of your tastebuds.
The most important thing to remember is to have fun in the kitchen. I often end up with splatters of Chocolate avocado mousse on the ceiling of my kitchen. Think decadent, think yummy, think wild! Smiles for miles x Skye
Serves 8, prep time: 30 - 40 mins
For a dairy free version, just leave out the dark or milk chocolate.
Macadamia base
2 cups raw macadamia nuts

3-4 tablespoons light agave syrup or honey
Chocolate Avocado Mousse
4 avocadoes

220ml light agave syrup or honey

1/2 tbsp coconut oil

100g 70% dark Lindt chocolate or milk chocolate (whichever is your favourite)

1 cup coconut milk

7-10 tbsp cacao powder please use Power Super foods cacao powder if possible (start with 5 tablespoons and then taste to see if it needs more. Varying brands are quite different in their strength)
Wild Hibiscus and raspberry cream
1 cup cashews

2 cups frozen raspberries

4 Nicholson's wild hibiscus flowers (if you can't find the flowers, just leave these out of the recipe)

¼ cup light agave syrup or honey

50ml lemon juice

1/2 cup fragrance free coconut oil

1 cup of coconut milk

1/4 tsp celtic sea salt
Garnish
8 Nicholson's wild hibiscus flowers (if you can't find the flowers, no problem at all, just use a raspberry or chocolate shavings)
**Buyer's tips: Supermarket or farmer's market: avocadoes, 70% dark lindt chocolate, raw macadamia nuts, frozen raspberries, coconut milk Healthfood store: light agave nectar/syrup, fragrance free coconut oil, cacao powder
Specialty Delis and gourmet food stores: Nicholson's Wild Hibiscus Flowers **
Method
Step 1 - Garnish: Place 8 of the wild hibiscus flowers upside down on a plate and place in the freezer. The petals should be on the plate, and the base of the flower should be sitting up. This technique will freeze the flowers into lovely upright flowers so that you can use them as garnish without them collapsing.
Step 2 - Base: Pulse the macadamia nuts in a food processor. Once the nuts are about half the size of the original chunks, take half of the mix out and set aside in a bowl. Add 3 tablespoons of the light agave syrup and continue to process the remaining mix in the food processor until it forms a smooth paste. Pull the smooth nut mix out of the food processor and combine with the nuts set aside in the bowl.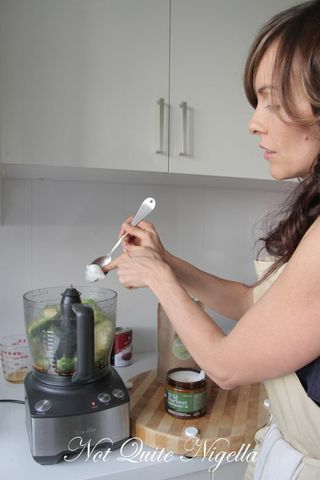 Step 3 - Mousse: Place Lindt dark chocolate into food processor and pulse until chocolate is in small pieces. Set aside in bowl.
Combine avocadoes, cacao, agave syrup, coconut oil and coconut milk in a blender until smooth, creamy. Taste and adjust if need be, as produce is always very different. If you want your mousse to be more sweet, add more agave nectar. Less sweet, more avocado. More chocolatey, add cacao powder, less chocolatey, more avocado. Fold in Lindt chocolate for the yummiest chocoholic's dessert.
Step 4 - Raspberry Cream
Place all ingredients into Vitamix blender and blend until you have a smooth cream. Strain and set aside.
Step 5 - Serving
Using a glass slightly larger than a shot glass, place about 1 tablespoon of the macadamia base at the bottom of the glass. Smooth the mix with the back of a teaspoon.
Step 6 - Spoon the mousse on top, ensuring that the glass is almost full and smooth with the back of a spoon or give it a few taps on the bench.
Step 7 - Pour the wild hibiscus and raspberry cream over the top of the chocolate mousse.
Cover with plastic-wrap or place all shot glasses into a large plastic container with a lid and place in freezer until the desserts are cold or semi-frozen.
Step 8 - Pull the wild hibiscus flowers out of the freezer and place one on top of each dessert for a lovely garnish. This dessert is best served semi-frozen.