This recipe is brought to you by Jacob's Creek Reserve Wines
How does the saying go? That you're never too old for anything. That saying perhaps includes that you're never too old to be embarrassed by your well meaning parents. We were celebrating Mr NQN's birthday at a Jacob's Creek Longest Reserve Table Lunch, a celebration of food, family and provenance with some friends and family. Tuulikki, Mr NQN's well meaning alternative mother was there swathed in purple and the waiter asked her what sort of Reserve wine she'd like with her lunch.
She turned to him and said "I'd like a non alcoholic wine." He faltered, slightly confused. "Pardon ma'am?" he asked his brow furrowed. "I would like a non alcoholic wine" she repeated. "I'll see what I can do" he said diplomatically. Mr NQN sighed, put his head in his hands and out came a long drawn out "Muuummmmmm!"
Nevertheless, the Jacob's Creek Longest Reserve Table Lunch was a wonderful day for spending with family and close friends (who are like family) and breaking bread or sharing meals with them along with Reserve wine. It started with meeting at Darling Harbour's Welcome Wall which truthfully none of us had ever seen before. We joined the queue with people holding foil topped trays holding family treasures of lasagna, roast legs of lamb, noodles and curries.
Photo credit: Jacob's Creek
We joined one of the three long tables and settled in enjoying the view. The sun shone brightly on Darling Harbour and there was plenty of Reserve Shiraz and Reserve Riesling on offer. In between courses celebrity chef Pete Evans was on hand and made sure to say hello to most of the tables and thrilled our mums with a photo. Can you say "mum's with crushes"? ;)
All of the guests were friendly and like a family, we swapped plates with each other swapping our chickpea salad with a vegetable ratatouille with the friendly group to our left. And there was wonderful news that Mr NQN's sister Amaya is pregnant so it was a chance for everyone to share the good news. Cue the mums telling stories of us as kids and Tuulikki loves telling people that even though Mr NQN is a tall and skinny adult, he was the fattest baby in. the. world.
My mother enjoyed the Reserve wine, the Barossa Shiraz was her drink  of choice with her citing the purported health benefits. It's also one of the wines that suited the food best as it has spice, pepper and rich black fruit characters that work well with the herbs, coriander and black pepper spices which are all flavours that my mum loves using and it was also perfect for warming us up too on this winter's day (not that the bright sun didn't help too). The mums were pleased-they were sitting staring at the view of the water and at the end of the day we came away with some snuggly blankets and a bottle of the Reserve Barossa Shiraz and Reserve Riesling each.
For a video recap of the day and interviews with other guests and their families, what they brought and what it means to their family and culture, take a peek here at the video here. I wish I were sitting next to Nancy who served up her family recipe of Turkish manti dumplings or Nick who made French Andouille sausage or Cindy who made Chinese Hainanese chicken rice. It was a multicultural crowd where everyone shared a bit of their family recipes, their history and themselves.
Photo credit: Jacob's Creek
Mr NQN had a great birthday that day which was capped off with not just one cake but three. It was a combined birthday celebration with his brother Manu. I baked Mr NQN a cake, his sister Amaya made one for Manu and dear reader Jaqi gave me a beautiful cake that I brought along to the celebrations. Long time readers will know that I married a man who doesn't really eat cake. I know, these people exist. Mr NQN's family birthdays growing up involved raw fruit and coconut cakes and although this isn't raw, there's plenty of fruit and coconut in it to keep it moist which is what the birthday boy loves in a cake.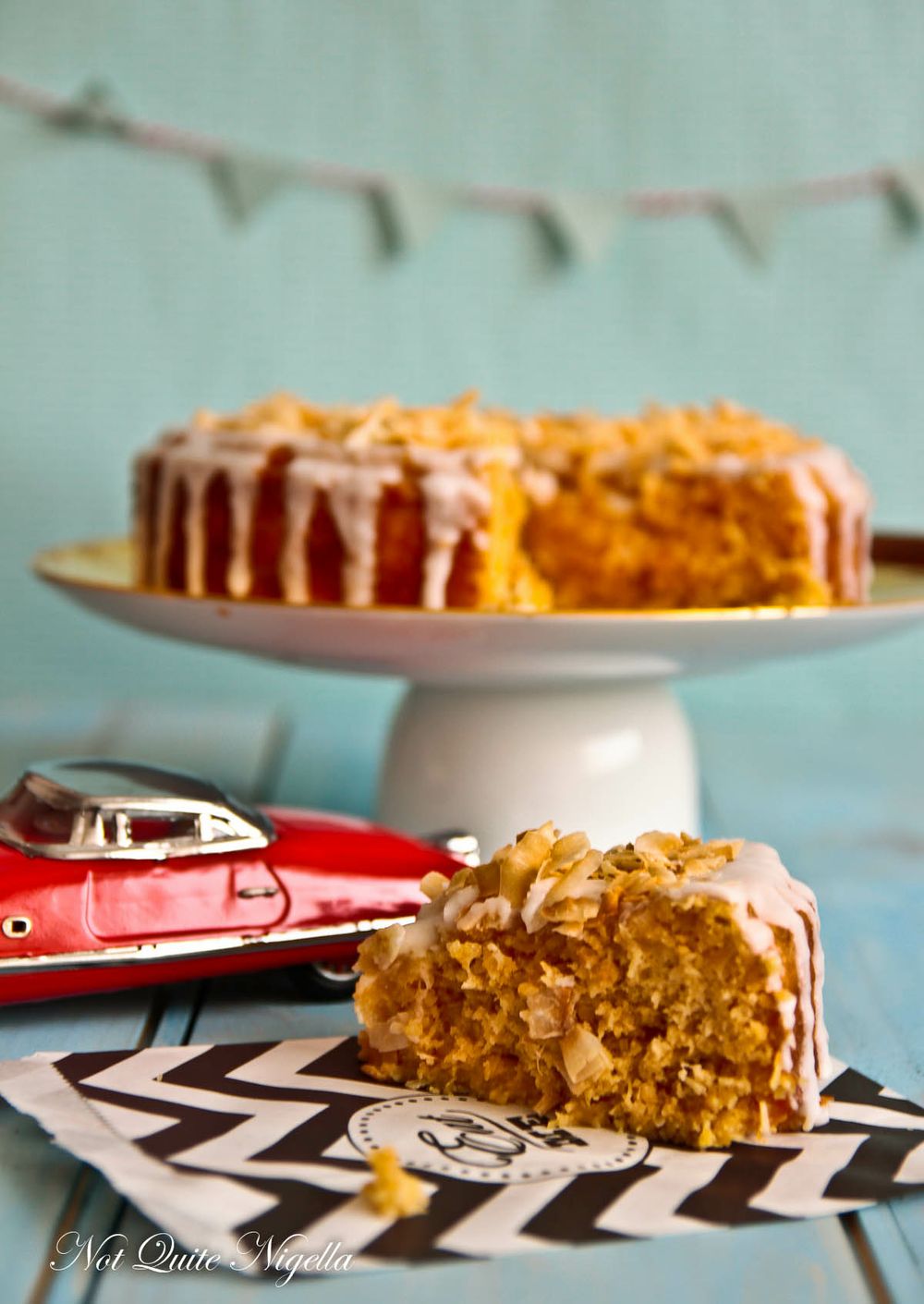 The cake that I made him was based on a recipe for blondies by the gorgeous Felice from All That's Left Are The Crumbs. I adored the look of them and while we're towards the end of winter anything vaguely tropical catches my eye. Coconut and pineapple make up the main flavours of this blondie cake which is dense and moist. More like a tropical hummingbird cake than a dense, gooey oversweet blondie this is covered in a coconut cream, coconut liqueur and toasted coconut flake glaze that drips down each corner. I'm a sucker for a good icing drip and I discovered the best way to get perfect drips-by placing the icing in a piping bag and dripping this first down the sides and then spreading it over the top.
The cake is a distant cousin to the hummingbird and lumberjack cake in that they're simple but last for ages and seem to get more moist if you keep them in an airtight container. I made the cake two days ahead and it was still gorgeously moist when it was served. Like families, it only gets better with age and it's perfect for a family celebration or birthday and I would almost guarantee that it will disappear. I would even suggest that this were a cake to make for those that you want to thank too and I think on birthday you can often forget to thank your mum for going through labour!
So tell me Dear Reader, what is your family's provenance? That is, where did they come from and is there a dish that represents your culture? And what's your favourite dish from another family or culture-is it manti, andouille or chicken rice like these diners or something else entirely?
DID YOU MAKE THIS RECIPE? Share your creations by tagging @notquitenigella on Instagram with the hashtag #notquitenigella
Pina Colada Blondie Cake
Adapted from All That's Left Are The Crumbs
1½ teaspoons baking powder
150g or 10 tablespoons unsalted butter, softened
1 cup packed light-brown sugar
2 large eggs at room temperature
1½ cups crushed pineapple, well drained (reserve the liquid)
1/2 cup white chocolate chips
2 tablespoons coconut liqueur or 1 teaspoon coconut essence
¼ cup pineapple juice (from reserved liquid)
For coconut glaze
3 cups icing or powdered sugar, sifted
3 tablespoons coconut cream
2 tablespoons coconut liqueur or 1 teaspoon coconut essence
1 teaspoon hot water (if needed)
½ cup sweetened flaked coconut, toasted
*to make 2 cups of cake flour, add four tablespoons of cornflour or cornstarch to a 2 cup measuring jug and fill to the 2 cup mark with plain all purpose flour
Step 1 - Preheat oven to 180C/350F and line the base and sides of a 20c/8 inch diameter springform tin. Whisk the cake flour, baking powder and salt together in a bowl. Beat the butter and brown sugar together until light and fluffy and then add each egg one at a time beating until fully incorporated. Then add the pineapple, coconut, white chocolate, coconut liqueur and pineapple juice and mix until combined. Add the flour mixture and stir to combine and spoon into the prepared tin.
Step 2 - Bake for 55-60 minutes until a skewer inserted comes out clean. To toast the coconut, place it on a baking tray and bake it for 5 minutes in the oven once the cake is done. Cool both the cake and the coconut.
Step 3 - To make the glaze, mix the icing or powdered sugar, cream of coconut and coconut liqueur or coconut essence together. If too stiff, add the hot water. You want it thick enough to form and hold a drip. To create the drips on the side, spoon 3 tablespoons of the glaze into a piping bag and snip off the end. Pipe around the cake to create drips in evenish sort of intervals. Then using a spoon and an angled spatula, spoon some glaze on top and sprinkle with coconut flakes (do this before the glaze sets).