Want a fun but easy Halloween? These easy Halloween recipes are 2021 friendly (aka low stress) and yet deliver spookiness in a tasty, delightful way. From an eerie-sistible delicious Char-Spookerie platter, a giant Rattus meatloaf, tasty vegan BOO-ritos to red velvet cinnamon bun intestines you'll delight your guests without stressing yourself out! Plus take a look at the frightening and clever costumes that my Halloween party guests wore!
Dear Reader, COVID and the horror shows of 2020 and 2021 really put a damper on Halloween plans. Firstly there was the question about whether we would be out of lockdown in time for Halloween, then it was how many people I could invite and where we could hold it. And don't even get me started on the weather...
For the past few years the weather has played havoc with Halloween with everything from thunderstorms to persistent, heavy rain which was all very on-theme for Halloween but somewhat limiting with the location. At the time of planning my party mid September I decided to do a smaller outdoor Halloween. An outdoor picnic, like an outdoor wedding is fraught with precipitation worry so I looked for a solution that would protect us from the rain.
A few weeks ago we went on a picnic with Queen Viv and Miss America and came across a gorgeous rotunda in Camperdown Park which is called the Magical Band Rotunda. It was perfect! Not only would it protect in case of inclement weather, but it was the perfect spot to decorate too. The space was also bookable which meant one less thing to worry about.
I also decided on one key thing that was important to me: I was making less food than I usually do. I tend to go a bit overboard and there's food that ends up being thrown out which I think is a waste. So instead of making 13 things, I decided to make 6. And they would be 6 delicious things that anyone could make too. While I love a huge Halloween cake, it rarely gets eaten because everyone is too polite to cut into it and I end up with a cake for 30 people for Mr NQN and myself.
As I have for many years, I got props from The Party People in Drummoyne who always have the BEST selection of Halloween goodies. There's a whole floor devoted to Halloween decorations and costumes and you can also try on the costumes in the store because if you've ever bought pre-made Halloween outfits, they do vary in quality and sizing so it's good to try them first. They had some amazing props including a lot of animatronic ones including three clowns going around a carousel and a monster dangling a kid. I earmarked them for next year as there would be no power source in the park.
Food-wise I started with a Char-Spookerie platter with several types of cheese with a triple creme Langres, Bleu de Rambouillet, Crottin, Delice de Bourgogne and a Ossau Iraty. For fun I also made cheese and pretzel broomsticks and a "pumpkin" cheese ball. This was a cheese ball spiced up with Sriracha and was rolled in crushed tasty cheese corn chips with a cinnamon stick stem. The broomsticks were a bit trickier as I found it hard to find straight pretzels but Valentina came to the rescue and found some!
For something a bit more substantial for vegetarians I made Frankenstein BOO-ritos using spinach tortillas. I made them vegan because I didn't want to worry about keeping them cold and meat or fish spoiling. Frankenstein had cheese (you can get vegan cheese slices), carrot and olive eyes and corn chip hair. They were a massive hit as everyone really enjoyed them and they were easy to transport. I just wrapped each one in greaseproof paper and then unwrapped them at the location and placed them in a picnic basket. The eyes and corn chip hair stuck to them surprisingly well!
The main event was a Giant Rat Meatloaf complete with chicken's feet claws, potato ears, spaghetti whiskers and an articulated long red chilli tail. I originally wanted to use a parsnip for the tail but didn't get one in my vege box and wasn't sure how to communicate with the click and collect shoppers that it needed to look as "rat tail" like as possible. I used wagyu beef mince for this and he was pretty damn tasty. I wasn't sure if he looked that rat-like until Laura pointed out that he looked just like Rattus from The Ferals (which is a show I've never seen but let's pretend that was what I intended all along!). There was also my Halloween Focaccia bread with a Haunted House scene.
For dessert I had Dalgona candy and Pentagram pies filled with apple and strawberries as well as some rather gruesome cinnamon buns. These red velvet cinnamon roll intestines are as gruesome as they are tasty! They're made of red velvet flavoured bun dough with a buttery caramelised cinnamon filling! If you love a bit of a scare with your morning tea or breakfast then please give these red velvet cinnamon roll intestines a go!
A lot of red velvet cinnamon roll recipes use a box of red velvet cake mix but I don't even know if ours would be the same as the cake mixes in America so I decided to make a version without the cake mix box. Red velvet really lends itself to cinnamon buns as red velvet cakes are moist and soft in texture and are lightly flavoured with cocoa powder and a helluva lot of red colouring which was easy enough to replicate in cinnamon roll form. Usually it is smothered in cream cheese icing so in this case we used a cream cheese glaze on top (coloured bloody red of course!).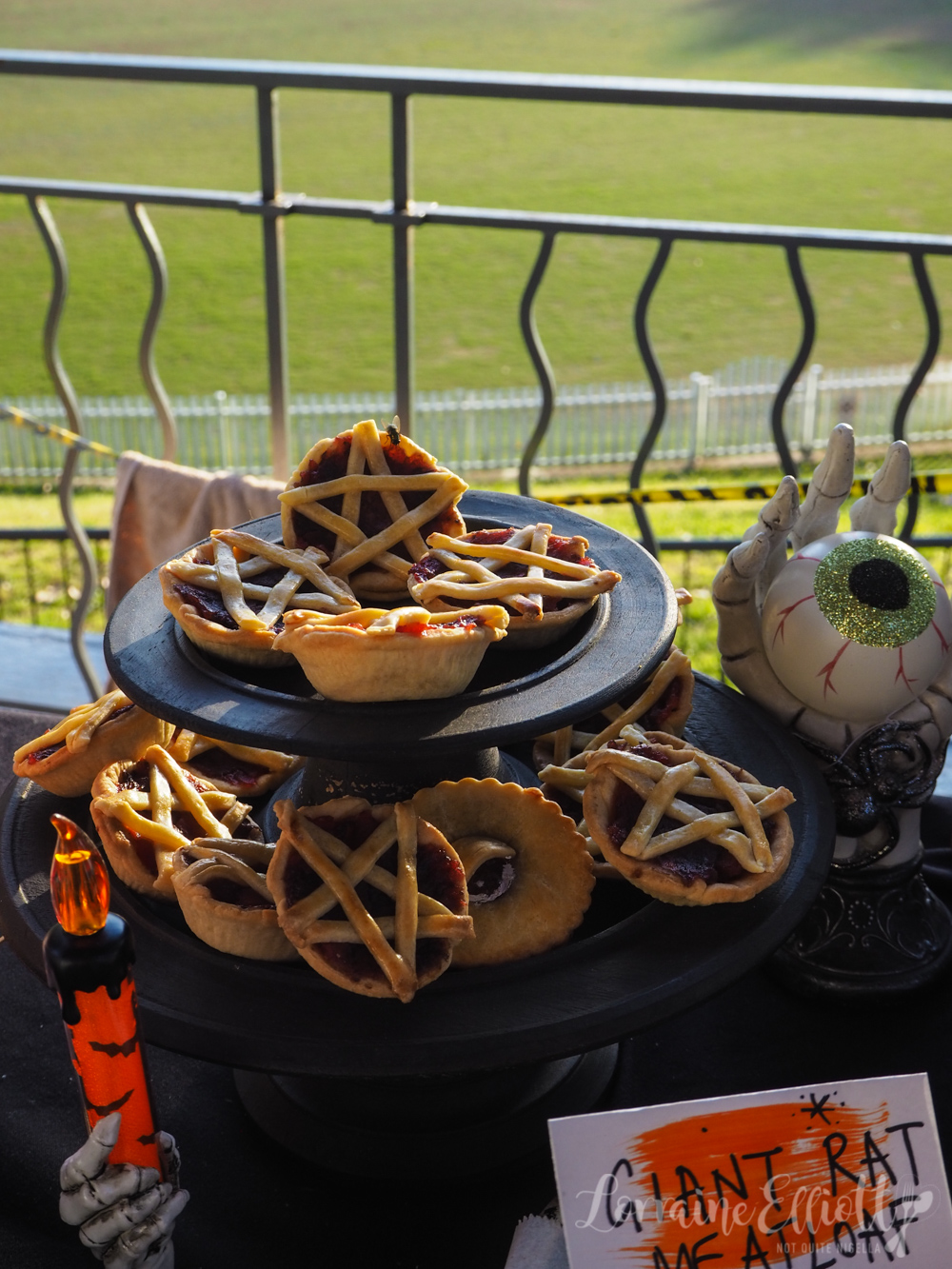 As for my outfit, I quickly got changed just before guests arrived. Costumes are usually a last minute afterthought for me as I focus mostly on the food but I really wanted to improve on my bought Halloween costume last year so I enlisted the help of my favourite costume designer Queen Viv. Every year she creates clever costumes, often hand made and she genuinely enjoys the whole process of costume making. A couple of months ago Monica had sent me a photo of a costume of a witch burning at the stake. It was so clever and I loved the idea of it because I'm 100000% sure I would have been burned at the stake if I were alive at that time. Queen Viv also suggested that I have a crystal tear on my face because of course I was an innocent witch.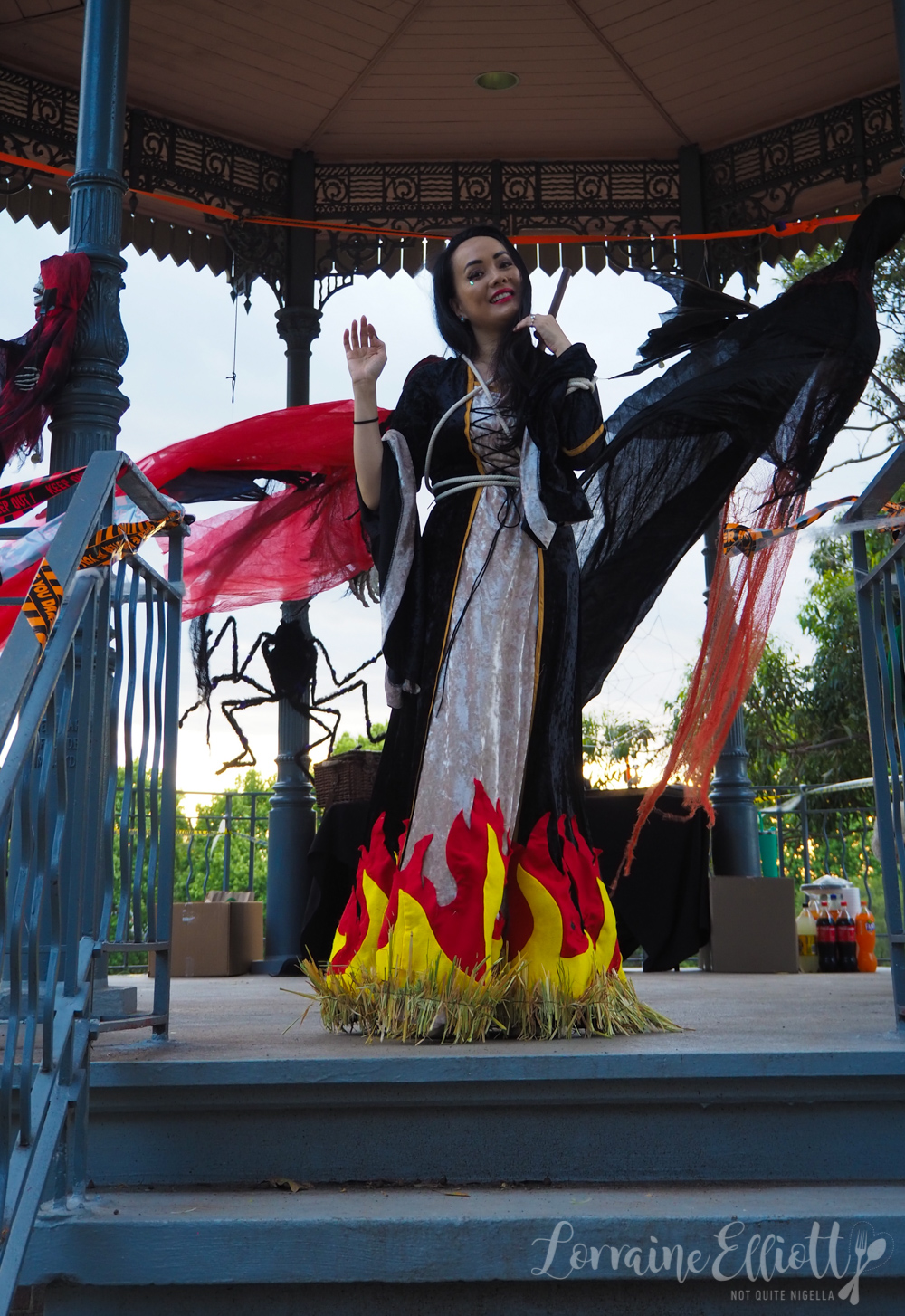 Queen Viv came to the shops with me to procure all the necessary bits and pieces of felt and introduced me to a hot glue gun. I turned the design studio in her apartment into a barn as the pea straw went everywhere and we glued and she sewed a straw edged hem onto the dress. I literally dropped straw everywhere I went.
Valentina and Peter kindly offered to come earlier to help set things up which took a lot of stress off as they are great at decorating whereas I'm not so much. These are the people that you want on your team. Valentina and Peter came as Mario and Luigi of the Mario Brothers and all I can say is that if you want to be popular with kids and adults alike try these costumes. We had so many people calling out "Mario!" and "Luigi!" to them as we were setting up. They didn't even see how Val and Pete had ghoulified their costumes with wounds and fake blood.
Teddy Elliott even got into the act as part of Mr NQN's costume. Mr NQN came as John Wick as he has a bit of a Keanu Reeves look especially with lockdown longish hair. But like all divas, Teddy had a change of outfit. You see about a year ago Sammie and I had agreed that for the following Halloween we had to get the two Teddys matching Chucky doll outfits. Teddy Elliott was unable to keep the wig on (it was quite loose) and shook it off but not before we snapped some cute pics of them. 1000% adorable and have you seen happier Chuckys?
As for my guests, Ivy was the first to arrive as Wednesday Adams, a costume I had considered briefly. While I've never worn the same costume as another guest I'm sure there will be a time that I do!
Sammie and David arrived with Teddy Roo in his outfit. She apologised in advance for a recycling of her costume from last year albeit with a wig for this year. I totally understood as 2021 has been enough of a challenge and even Mr NQN wanted to recycle his plague doctor outfit from 2017.
Monica and Marco were the next to arrive as Carmela and Tony Soprano. She chose these costumes as it would be the easiest and most comfortable for him while she had most of the Carmela outfit at home and completed it with her grandmother's gold jewellery. But you'll just have to imagine it as she's very shy so she didn't want any photos taken but here's a pic of her squid ink taramasalata with salmon roe on top and charcoal crackers which was epic and delicious.
A Halloween party without Julie isn't Halloween really. Julie lives quite far away and every year she makes the effort to come along which is so lovely as everyone loves seeing her. "OK wait, I have a musical cue," said Julie playing some music on her phone. "Oh my god - red light! Green light!", I exclaimed. She came as the creepy doll in the Red Light Green Light game on Squid Game! Her costume was one of my favourites and I loved that she came as a Squid Game character!
On the theme of Korean tv shows, JY came as Yoon Hye-Jin from a show called Hometown Cha-Cha-Cha who is known for her pink dress and matching pink umbrella!
Queen Viv and Miss America arrived together. Queen Viv was worried about a crucial part of her costume arriving in time but it came just in the nick of time. When I saw her I had to laugh. She was the Octopus Teacher (and yes without the octopus the costume would be lacking a crucial part).
Miss America came as No Face from Spirited Away. This only proved difficult when it came to eating and charades as nobody could read his body language.
Every year Laura has a slight timing clash with her niece's birthday party so she usually zombifies the outfit she wears to her niece's party. This year the kid's birthday theme was Where's Wally so she went to a vintage store and snapped up a one piece red leotard complete with sequined detail on top of her Where's Wally top and beanie.
Some notable absences were Nina and Garth as Garth wasn't quite ready to come out of lockdown and mingle with people and Girl Next Door who isn't likely to make any more Halloween parties as she has switched careers and is now a marriage celebrant so all of her Saturday nights for the foreseeable future are now taken up with weddings!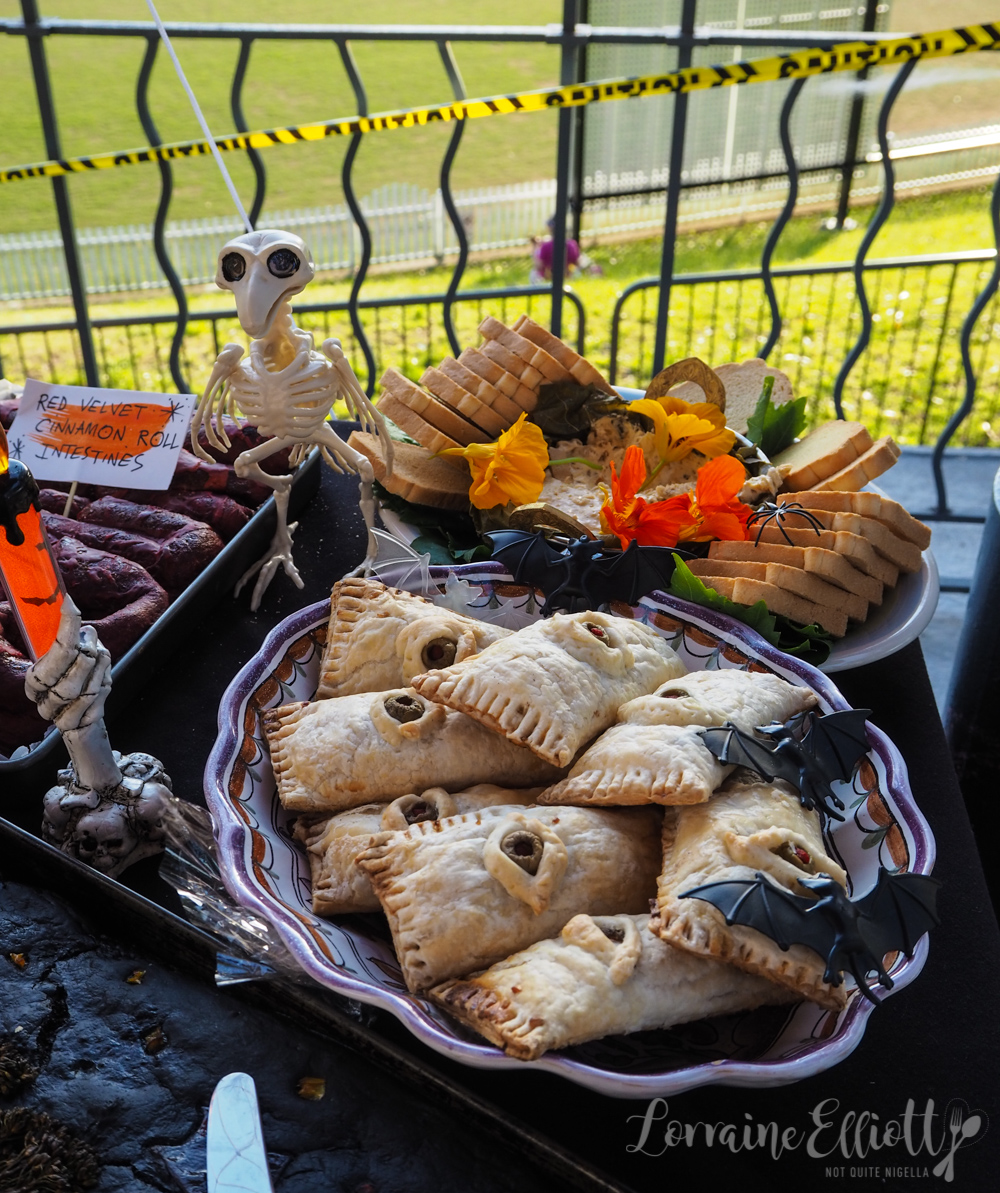 Valentina made incredible pumpkin eye pies and a French onion dip. Sammie brought her amazing rocky road and Laura brought a fruit punch complete with snakes alive lollies inside and eyeballs made of lychees and cherries!
The Dalgona Candy ended up being a conversation piece. I wrapped them individually and let everyone know that there was a prize for anyone that could trace out the inside shape as per the Squid Game challenge. However the shapes that I used were a bit more complicated than the triangle and circle (although luckily for everyone I didn't have an umbrella cutter). Most people gave it a go but gave up after one or two goes instead chomping on the tasty honeycomb.
However JY and Laura decided to take it up as a challenge. If I could pick two of my friends that I think would do that it would be these two as they're competitive gals that like a challenge. It was getting dark so Laura used her phone as a light. Nobody was quite willing to lick their way to winning the challenge instead using toothpicks. In the end JY removed an owl shape from the candy using a pocket knife and won a prize. However the prize I had was a block of chocolate with peanuts in it and JY is allergic to peanuts! So 2021...SMH.
Just after 8pm the rain fell which cleared away any other picnickers but thankfully we were still protected under the magical rotunda. We also played some charades. This time Miss America didn't forget which team he was on and surprisingly nobody picked COVID-19 which was a surprise as nothing was more horrific. And the best thing for me? Nobody noticed that there were less items than last year as the table was filled up with my items and those from my friends.
Onto the recipes Dear Ghouls! So tell me Dear Reader, are you celebrating Halloween this year? Would you try the Dalgona challenge?
Love,
Morticia
xxx
DID YOU MAKE THIS RECIPE? Share your creations by tagging @notquitenigella on Instagram with the hashtag #notquitenigella
Char-Spookerie Platter
Rated 5.0 out of 5 by 5 readers
An Original Recipe by Lorraine Elliott
Preparation time: 40 minutes
Cooking time: 0 minutes
Serves: 8
For Pumpkin Cheese Ball:
250g/8.8ozs cream cheese (not low fat or spreadable)
1 cup/100g/3.5ozs. cheddar cheese, grated
1/4 onion, finely diced
2-3 tablespoons Sriracha
100g/3.5ozs. tasty cheese corn chips, crushed finely
1 cinnamon stick
For Pretzel Broomsticks:
8 string cheese sticks
2 baby spinach leaves
To serve
An assortment of 5 cheeses (I had a triple creme Langres, Bleu de Rambouillet, Crottin, Delice de Bourgogne and Ossau Iraty)
Pepper crusted chilli salami
Twiggy sticks
Fresh figs cut in half
Dried fruit (apricots, quince and dates)
Charcoal wafer crackers
To make the pumpkin cheese ball blend the cream cheese with the cheddar cheese, onion and Sriracha and place in some clingfilm and shape into a ball and refrigerate for 3-4 hours or overnight (this can be done 2-3 days ahead of time). Roll in the corn chip crumbs and insert a cinnamon stick in the centre.
To make the pretzel broomsticks, cut each string cheese in half and pull apart at one end to create a broom effect but do not peel all the way to the top. Stick a pretzel in the other end. Slice a baby spinach leaf into thin slices and wrap around the top of the cheese - the spinach should stick to the cheese.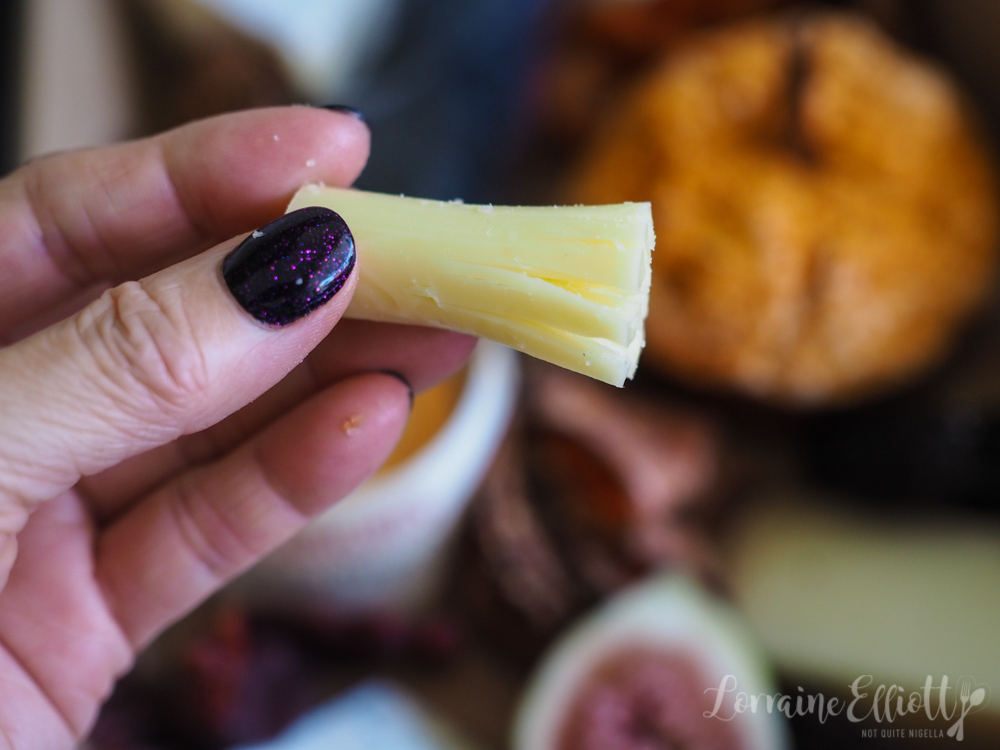 Frankenstein BOO-Ritos!
An Original Recipe by Lorraine Elliott adapted from an idea from Peas & Crayons
Preparation time: 40 minutes
Cooking time: 30 minutes
Makes 15 BOO-Ritos
Serves: 15 people
400g/14ozs. sweet potatoes, peeled and diced
2 onion, peeled and cut into 8 crescents
250g/8.8ozs cooked white rice
250g/8.8ozs. cooked brown rice
1 white onion, finely chopped
400g/14ozs garlic toum (see recipe here)
400g/14ozs. tin corn, drained
400g/14ozs. tin black beans, drained
200g/7ozs sun dried tomato slices in oil, drained
3 tomatoes, chopped
1/2 cup finely chopped coriander
15 Spinach tortillas
To decorate
15 triangular corn chips
30 rounds of cheese (vegan cheese) cut out
30 slices of carrot
30 pieces sliced black olive
1/2 red capsicum, sliced into 30 smiles
Step 1 - First roast the sweet potato and onions by placing on a parchment lined tray and drizzling with oil and roasting at 180C/350F for 25-30 minutes or until caramelised. You can do this 2-3 days ahead of time and keep in the fridge until needed.
Step 2 - Mix the two types of rice with the sweet potatoes, onion, toum, corn, black beans, sun dried tomato, tomato and coriander. Season with salt and pepper. Heat the spinach tortillas either in a frypan or microwave. Place two scoops of filling and fold up on the top and bottom and then the sides to create a rectangle. Secure closed with a toothpick.
Step 3 - Turn over and place the cheese eyes, carrot and olives and capsicum smile. Break off the pointy parts of the chips to create jagged hair. Serve or wrap up in greaseproof paper to prevent drying out.
Giant Rattus Meatloaf
An Original Recipe by Lorraine Elliott
Preparation time: 20 minutes plus 30 minutes refrigeration time
Cooking time: 55 minutes
Serves: 12
2 onions, peeled and finely diced
2 carrots, finely diced
4 garlic, peeled and finely diced
1kg/1.1lbs wagyu beef mince
1 cup breadcrumbs
2 eggs, beaten
1 cup tomato paste
Salt and pepper for seasoning
4 chicken's feet
2 slices potato
3 stuffed green olives
2 pieces spaghetti, each broken into 3 pieces
Long red chilli
Step 1 - Sauté the onion, carrots and garlic until soft and fragrant. Allow to cool and then mix with the wagyu mince, breadcrumbs, eggs and tomato paste. Fry a little of the mixture and taste for seasoning and add salt and pepper if it needs it. Refrigerate for 30 minutes to firm up.
Step 2 - Preheat oven to 180C/350F. Line a baking tray with parchment and take 3/4 of the mixture and shape it into a body and the remaining 1/4 into a pointy head. Place two olives in as the eyes. Slice another olive in half and place it as the nose. Place the potato ears in place by inserting a knife into the head and cutting out slits for the potatoes and sliding them in. Attach the chicken's feet and add the spaghetti whiskers. Then slice the long red chilli so that it looks an articulated tail and place at the back. Bake for 45 minutes.
Red Velvet Cinnamon Roll Intestines
An Original Recipe by Lorraine Elliott adapted from In the Kid's Kitchen
Preparation time: 30 minutes plus 1.5 hours rising time
Cooking time: 30 minutes
Serves: 8
285g/10ozs. bread or plain flour
60ml/2ozs water
25g/1oz butter
85ml/2.8flozs. milk
1 tablespoon red velvet or red food colouring
1 egg
1 teaspoon vanilla extract
1 teaspoon salt
1 tablespoon cocoa powder
1/2 tablespoon instant dried yeast
For filling:
65g/1/2 cup melted butter
1 cup brown sugar
1 teaspoon ground cinnamon
1 egg, beaten for glaze
For glaze:
2/3 cup/95g/3ozs. icing or powdered sugar
30g/1oz. cream cheese
1-2 tablespoons milk
1 teaspoon red food colouring
1 teaspoon vanilla extract
Pinch of salt
I use this Red Velvet Bakery Emulsion by Lorann. As you can see I bought a huge bottle of it!
Step 1 - First take out 20g/0.7oz of the total flour weight and whisk it with the water in a small saucepan. Heat gently on low to medium heat until it reaches 65C/149F. Take off the heat and whisk in the butter until it is melted. Then whisk in the milk, food colouring, egg, vanilla and salt.
Step 2 - In the bowl of a mixer whisk the remaining flour with the cocoa powder and yeast. Add the liquid mixture and mix with a spatula until it starts to come together. Knead on low until very elastic- around 10-15 minutes - you should be able to pull the bread apart with floured fingers and it shouldn't break and you should be able to see through it (the window pane effect).
Step 3 - Shape into a ball and place in an oiled bowl (it can be the same mixer bowl as they tend to be large enough to hold the mixture). Cover and allow to rise in a warm area for 45 minutes to 1 hour until 2-3 times the size.
Step 4 - Line a 20x30cms/7.8x11.8inch lamington or brownie tin with parchment. Remove the dough and place on a lightly floured surface. Allow to rest for a minute, then roll out to become a large rectangle. If the dough is resisting and pulling back, let it rest for 5 minutes before trying to roll it out again - I usually make the filling while it resting.
Step 5 - Mix the melted butter with the brown sugar and cinnamon in a bowl. Spread over the rectangle of dough leaving a border of 1 inch at the top of the rectangle on the longest side.
Step 6 - Roll up from the widest side to form a long log. Cut into 6 pieces using a piece of dental floss - slide the dental floss under the log and then bring the edges together to cross and it will cut the cinnamon rolls perfectly.
Step 7 - Take each roll and unroll it. Fold the length in half as shown to make a double layered strip. Arrange it in the baking tray looping it around and up and down. Messy is fine. If there's some brown sugar butter left place it in the tray. Allow to rise in a warm place for 30-45 minutes. Brush with egg glaze and bake for 25 minutes.
Step 8 - To make the glaze place all of the ingredients in a food processor and blitz until you get a smooth, drippable consistency. Spoon over the buns. Serve the buns bottom side up to show the buttery caramel glaze at the bottom.