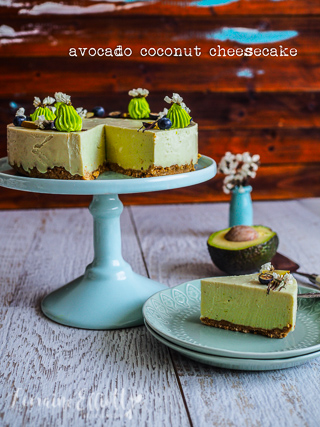 This avocado coconut cheesecake is not, I repeat not a healthy raw cheesecake recipe. Because you may have noticed I _am not a stringently healthy eater that loves the flavour of coconut oil. This avocado cheesecake is however an absolutely delicious cheesecake that happens to have the goodness of avocado added to it plus the gorgeous flavour of coconut cream, cardamom and vanilla! I called her Alexis._
I made this cheesecake for Nina's birthday. She has very specific likes and dislikes. She likes wholesome food and cakes with nuts, fruit or cheesecakes. "I like the opposite of French cakes, I like the sort of cakes you get when you go to a farm stall." she said. Forget light mousses or pastries, she sees little nutritional value or appeal in these.
Nina adores home made food. The more home style the better as she finds restaurant food far too rich. I've seen her eat half a dish and leave the rest while we are still going. I wish I were the same and recently we had a bit of a incident in a restaurant that made me want to stay home and eat home cooked food.
There we were, Mr NQN, my parents and sister Blythe sitting in a restaurant enjoying some delicious dumplings on her last night visiting Sydney from London. The food was great, the atmosphere moody and dark and the staff friendly. Then they brought out one dish and I took a dumpling. I'm a poor combination of a bit blind and greedy but eagle eyed Mr NQN pulled the plate a bit closer to him and then took his phone and shone a torch on the plate (it really was quite dark where we were sitting). And there, embedded in the pattern of the deep fried bun was a little deep fried cockroach.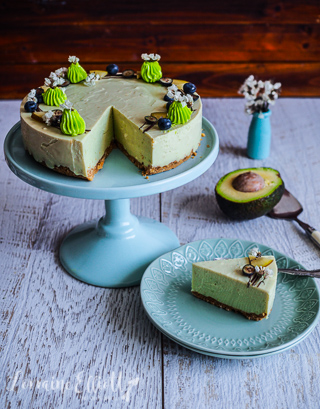 "Arrrgh" I said, dropping my bun quickly onto the plate. We literally had one dish to go before we were finished and this was the first time we were ever served a cockroach. We called them over and then peered in before recoiling and whisking away the dish. "Would you like a replacement?" they asked and we nodded no as we had all lost our appetites. "We'll just get our bill then," we said weakly. They had taken off the item and were rather sheepish when presenting the bill. Maybe Nina was right, perhaps home made really is best!
So tell me Dear Reader, do you prefer home made or restaurant food or a combination of both (and what percentage)? And have you ever been served a cockroach or bug?
Did you make this recipe?
Share your creations by tagging @notquitenigella on Instagram with the hashtag #notquitenigella
Avocado Coconut Cheesecake
An Original Recipe by Lorraine Elliott
Preparation time: 30 minutes plus 6 hours setting time
Cooking time: 5 minutes
200g/7ozs. cookies (I used gluten free ones but use shortbread or your favourite type)
80g/3ozs. butter, melted
200g/7ozs. white chocolate
50g/1.7ozs. butter
4 sheets titanium gelatine
500g/1.1lbs cream cheese, softened
200ml/7ozs. coconut cream, divided in two
1 avocado, flesh only
1/2 cup caster or superfine sugar
Finely grated zest of 1 lime
1 teaspoon cardamom flavouring or to taste*
2 teaspoons vanilla extract
Dark chocolate, kiwifruit and blueberries to decorate
I found cardamom flavouring at an Indian grocery store
Step 1 - Line the base and sides of a 20cm/8inch spring form tin. Process the cookies in a food processor until very fine. Mix with the 80g/3ozs. of melted butter and press into the base of the lined tin. Place in the fridge until needed.
Step 2 - Melt the white chocolate and second lot of butter in a double boiler. Set aside to cool while you do the rest. Leave the gelatine sheets to soak in cold water until soft (about 5 minutes). Clean the food processor out and then blend the avocado with half of the coconut cream.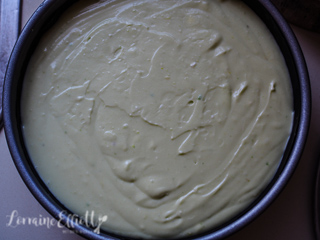 Step 3 - Heat the other half of the coconut cream and then take the soft gelatine leaves and squeeze them of water and mix into the heated coconut cream and set aside to cool. Beat the cream cheese with the sugar, lime zest, vanilla and cardamom until smooth. Then add the white chocolate mix, coconut cream with gelatine and avocado puree. Beat to mix well. Pour into the tin and refrigerate for at least 6 hours or until completely set. Decorate with fresh fruit and chocolate.