Hello my pretties and come inside my Hallowe'en party where I show you the latest "goodies" that I've cooked up for my ghoulish guests. Our location for this year's Hallowe'en party is of the spookiest places in Sydney to visit so with such auspicious surroundings I had to make some frightening food to match! And Halloween isn't complete without drama and a quick visit to the hospital for one of our party but who would it be...?
Do you remember the episode of the Brady Bunch when Carol Brady woke up at Christmas to find that she had lost her voice? Well before Halloween rolled around, the biggest thing that I thought could arise was our friend Louise giving birth during our party. But when we woke up on the morning of our Halloween party Mr NQN turned to me and said, "Hey just so you know, I think I have to go to the hospital. I have chest pains."
I was in the middle of shaping a sushi brain and I put down the rice that I was molding. We discussed when he should go. Fortunately, our Halloween party was being held at Q Station the former Quarantine Station located in Manly and the site of much spooktacular activity. It was also right next to Manly Hospital so he said that he would help me bring everything over and then go to the nearby hospital.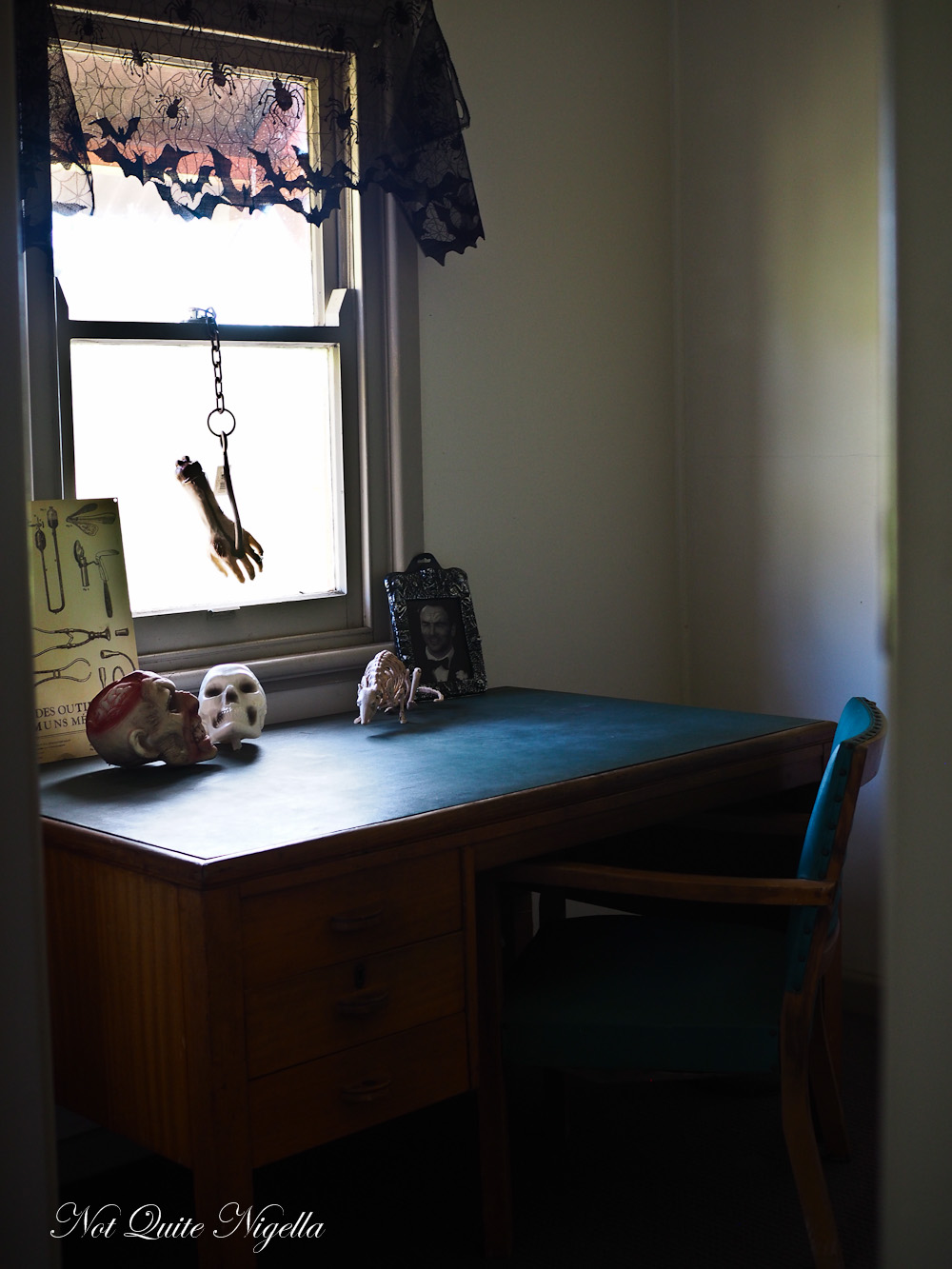 Most of you have probably heard of Q Station (originally Sydney's Quarantine Station), through their ghost tours, restaurant or hotel but they also have function spaces. Some of them have rarely if ever been used before and they had us booked in to use one of their original houses. From the 1830's to 1984, migrant ships arriving to Sydney that were suspected to carry contagious disease stopped at North Head's Quarantine Station to go into quarantine and this was Australia's longest continuously operating quarantine station. Smallpox, Spanish Influenza and the Bubonic Plague were quarantined here. 573 bodies are buried here on the site.
When I did the site reccy a few months before I knew that it would be perfect. The whole area has a historical significance and the house with its antiques and spooky atmosphere would be the perfect place to have Halloween. And to keep everything easy, we would stay the night in one of their lovely 3 bedroom cottages just opposite which would allow us to set up and pack down easily.
We got all of our props from our favourite party place The Party People in Drummoyne. We actually bumped into our party guests Stevie and Annie there on Thursday night before and they had marvelled at the selection of costumes.
The animated ghost that sings and reaches out with her claws
You can also try on the costumes before you buy them which is great as some costumes tend to fit better than others. We also chose medical themed decorations like skulls, skeletons and medical charts.
On the afternoon of our Halloween party, after a couple of trips back and forth across the Harbour Bridge, Mr NQN decided that he had to go to Manly hospital. He went off while I kept decorating, cooking and photographing.
I was the nurse handing out "pills" and eyeball chocolates
Minutes turned into hours and soon it was 5:30pm and we had everyone coming at 7pm. I texted him how he was going and he sent me a picture of him hooked up to all sorts of monitors. "They won't let me go until they get the test results back," he said. I messaged Nina worried and she asked if the party was still on. "Yes" I said not knowing what to do otherwise.
It was 6pm and I had no Mr NQN and all the things that he usually did fell to the wayside. He always does an ice run and so I asked Viggo if he could pick up some ice and Sammie and David who were staying overnight at Q station came over to help.
Mr NQN as a plague doctor
They helped me set up in the last panicked hour. Things got forgotten - I forgot to set up any of the garden decorations, dishes weren't completed properly and things just weren't 100%. But I don't think anyone was bothered or even noticed. Phew!
We fed them things like these adorable little Mummy Poppers. These were a big hit on the night and disappeared quickly. I even forgot to heat these up before serving because I was so stressed out but nobody seemed bothered by this. I'll share the recipe for these very soon.
Monster Mash
Halloween has a lot of sweets but since people were coming around dinner time I wanted to make sure that there were lots of savouries. Like these Monster Mash cups which are made up of purple mashed potatoes and spring onions with olives for eyes and corn for teeth.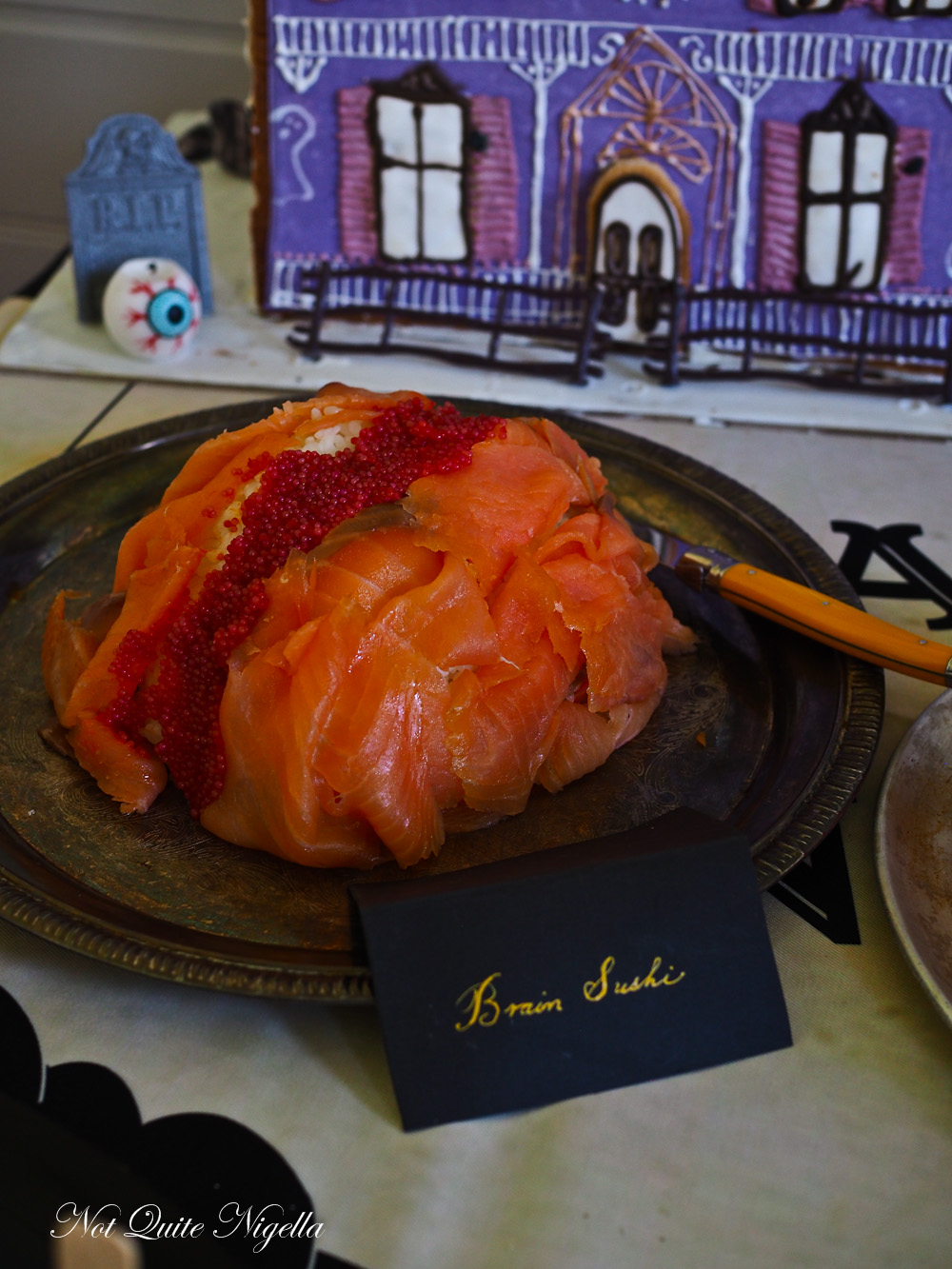 Pescatarian? Don't worry we have a Sushi Brain for you! It starts with chive cream cheese, avocado and this is covered in sushi rice and smoked salmon and caviar. Just like regular sushi but in a brain shape.
And have a spare 30 minutes? Try this twiggy "Hellraiser Head" with a mixture of mild and hot twiggy sticks and bocconcini and olive eyes. This is also easy to pass around like a platter and people can help themselves. Thanks to lovely reader Wendy for the styrofoam head.
The eyes were also put to good use in this "Baked Face" that I baked inside a Staub Pumpkin Casserole, a seasonal item in black cast iron with a golden handle that just came out. Do you like the "flayed skin" aka prosciutto?
For dessert there were Pus Cupcakes with bonus "maggots" for protein, a truly squeamish snack. Honestly, I don't know what's wrong with me either ;)
There was also the Evil Queen's Bundt Cake with a surprise moon inside.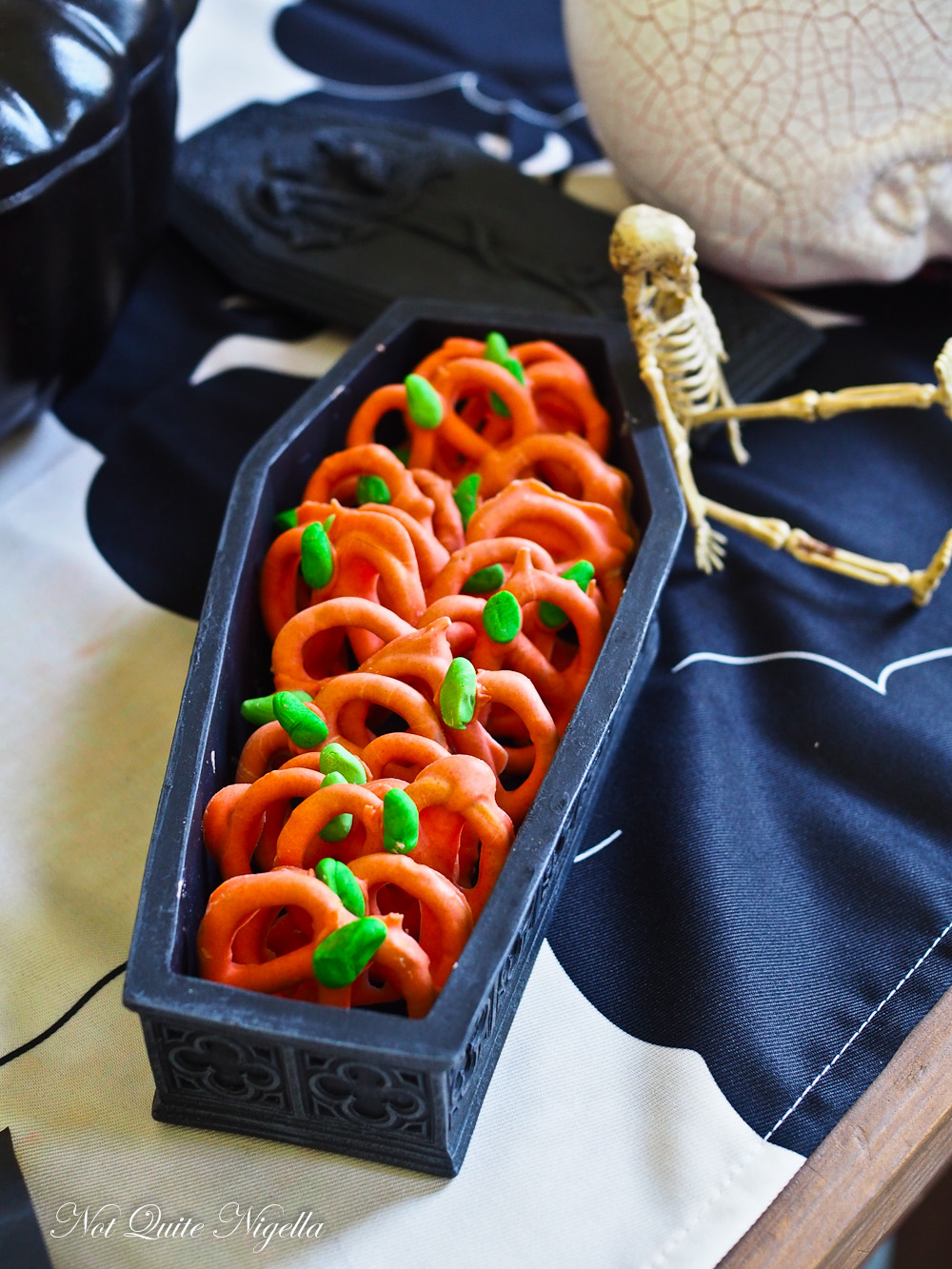 Another popular snack were these three ingredient Pumpkin Pretzels which were so simple but effective and delicious. Just dip salted pretzels into orange coloured chocolate and attach a green tic tac (or gum paste if you can't find green tic tacs)!
As well as Sugar Cookie Haunted Doll House (Sammie asked if she could eat the toilet while David got the bath and Miss America took bits of the roof) and Cameo Skeleton Cookies! I'll be sharing a tutorial on how to do the cookies soon!
Cameo Skeleton Cookies
Cheese board
Although not strictly spooky, this Halloween cheeseboard is all about orange and black colours with four types of cheese served with charcoal crackers, wild black olives and black grapes.
Rhubarb P'eyes
I think everyone loved looking into the Rhubarb P'eyes too with the lifelike cherry "eye" on top.
And to drink we had a few things on offer. First Q Station provided a fantastic bartender Fillipe who made us "potions" aka cocktails all night long.
Blood Peach Bellinis
They are actually putting on a Halloween menu at the Engine Room Bar and we had two cocktails including a Blood Peach Bellini with sparkling prosecco, Campari, grenadine and white peach puree. They were both fantastic and it was wonderful having Philippe there and he was a good sport getting dressed up.
And for a soft drink we served these Witch's Potion drinks made with Butterfly Pea Flower Heart-tee Blue Tee by the Wild Hibiscus company. Butterfly Pea is a natural blue coloured flower that is served in tea and drinks in Thailand. When you add lemon juice to it, it turns the drink a stunning purple colour!
Butterfly Pea Flower Iced Tea
Sammie and David
I love seeing what everyone gets dressed up as and I couldn't wait to see everyone. I did put a medical theme on the invitation but that was just a suggestion and people didn't have to stick to it. Sammie and David came as what else but a zombie doctor and a mad scientist complete with blood splatter! Trust them...they're doctors ;)
Viggo
Then Viggo arrived as an exterminator equipped with a Level 5a certified particle suit while Louise arrived as a doctor.
Louise
Julie
When Julie arrived as a Plague Doctor I had to laugh because for the first time ever we had a double up of costumes. Mr NQN was also coming as a black plague doctor from a suggestion by Belinda. He made it just in time donning his costume at 7pm and rushing through the door. The hospital couldn't find out what was wrong with him after numerous tests but he seems okay now.
Mr NQN
He loved the idea because it would hide his face (he's shy) and it was also pertinent to the location. They had both made their costumes from scratch and the night before Mr NQN had scared Mochi with his new costume, eerie silence and slow movements. She would only look at him suspiciously from lowered eyelids and I had to make him come back in as his normal self and she was much happier then.
Nina as Sweeney Todd as Tom Hardy in Taboo
I lost friendship points when I couldn't guess Nina's outfit. We had both gone to the premiere of Taboo together and she came dressed as Tom Hardy's character Delaney. Nina often gets dressed up as Johnny Deep so I thought she was Sweeney Todd. "You break my heart," said Nina. Oops.
Son, you got a penis on your head (Raising Arizona reference)
Garth came dressed as Tengu but nobody wanted to point out that his mask looked like it had a penis nose. Until later that night when that's what everyone was talking about.
Belinda as 11
Next was Belinda who came as 11 one of our favourite characters from Stranger Things complete with waffles and bleeding nose.
Alyson as the nun from The Conjuring
Alyson arrived as the nun from The Conjuring and she was a dead ringer for her. Later that evening Miss America whispered to me, "Is that really the Alyson that I met before?" because Alyson is usually glammed up. Tonight, she was super scary with glowing UV eyes.
Miss America as Donald Thumb
Then came Miss America and Queen Viv. I always know that these two friends will always dress up to the max and they did not disappoint. Miss America came as a hospital patient called "Donald Thumb" who delighted in having an open backed hospital gown. Donald Thumb is a rather damaged individual. Don't be like Donald.
Queen Viv in her straightjacket
Queen Viv the talented seamstress made herself a straight jacket gleaned from Pinterest no less. And her hospital tag read "Biter". I knew it!
JY and Ben as 11 and Dustin
We then had another case of the twins with JY and Ben coming as 11 and Dustin from Stranger Things. And their costume was made up of things that they already had in their wardrobe plus Ben used his wig from the David Duchovny outfit a couple of Halloweens ago!
And last to arrive but not least were Stevie and Annie who came as a zombie doctor and nurse too!
Around 10pm we adjourned to two of the rooms to partake in our Halloween tradition of Charades. We ate Evidence Bag Salted Caramel Bloody Popcorn (recipe to come for that!) and had such fun thinking of scary or spooky things.
Miss America was again the star - he is known for forgetting which team he is on and enthusiastically accusing his own team of cheating or blurting out answers for the opposing team.
The range of scary things included horror movies to disgraced Hollywood producers. Nina laughed so hard she said, "I laughed so hard I don't need to do stomach exercises this week."
We came, we shrieked, we scared each other and we laughed. And that's my favourite bit about Halloween, that you don't have to take things so seriously and it's fun! Happy upcoming Halloween my ghoulish lovelies and have fun however you like to do it. And without further ado, here are the recipes from the night!
The Shining X Stranger Things
So tell me Dear Reader, if you could dress up like anyone, who would it be? Have you ever been to a place that you think was haunted? Do you believe in ghosts? And are you celebrating Halloween this year?
DID YOU MAKE THIS RECIPE? Share your creations by tagging @notquitenigella on Instagram with the hashtag #notquitenigella
3 Ingredient Pumpkin Pretzels
All recipes by Lorraine Elliott
Although these are easy, they are delicious! The salty pretzels go perfectly with the sweet white chocolate.
Preparation time: 20 minutes
Cooking time: 5 minutes
250g/8.8ozs. orange chocolate melts
30-40 Pretzels
Green tic tacs (or green gum paste, rolled into tiny pieces)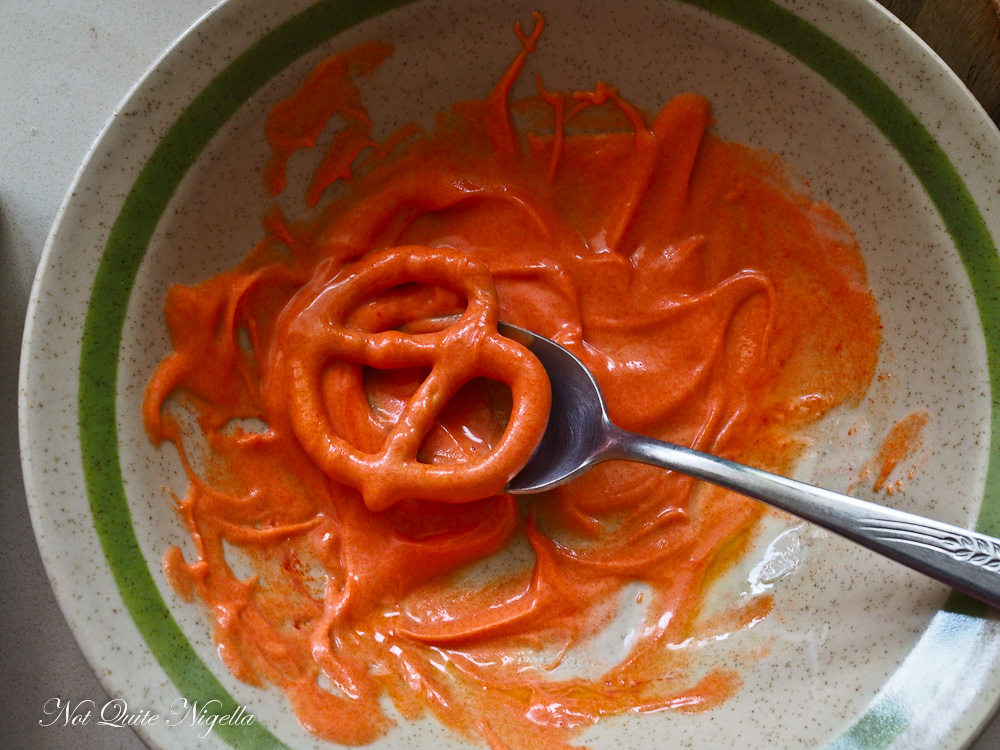 Step 1 - Line two trays with parchment. Melt the chocolate until smooth. Using two teaspoons dip the pretzels in the chocolate and allow excess chocolate to drip. Place on the lined trays and allow to set.
Step 2 - Once set, re-melt a little chocolate and dab a little in the centre top of the pretzel. Place the tic tac or fondant in place and allow to dry completely.
Pus Cupcakes
Makes 12 Cupcakes
For Cupcakes
100g/3.5ozs. butter, softened
3/4 cup caster or superfine sugar
2 eggs, at room temperature
1 teaspoon vanilla
200g/7ozs. self raising flour
1/2 cup buttermilk
1/2 cup mixed berries (frozen is fine)
Buttercream
250g/8.8ozs. butter, at room temperature
125g/4.4 ozs caster or superfine suagar
75mls/2.7 fl ozs. room temperature water, test with wrist
Amaretto flavouring (or use any clear flavouring that you like)
Green and yellow food colouring
For Skin
300g/7ozs. fondant
Skin tone colours
Red edible gel
Step 1 - Line a muffin tray with 12 liners and preheat oven to 180C/350F. Beat the butter and sugar together until pale and fluffy-around 3 minutes or so. Add eggs one at a time beating well after each addition and then add vanilla. Using a spatula fold in the flour and milk in two lots alternating and add the berries. Use an ice cream scoop to scoop into the muffin tins and bake for 20 minutes. Cool completely.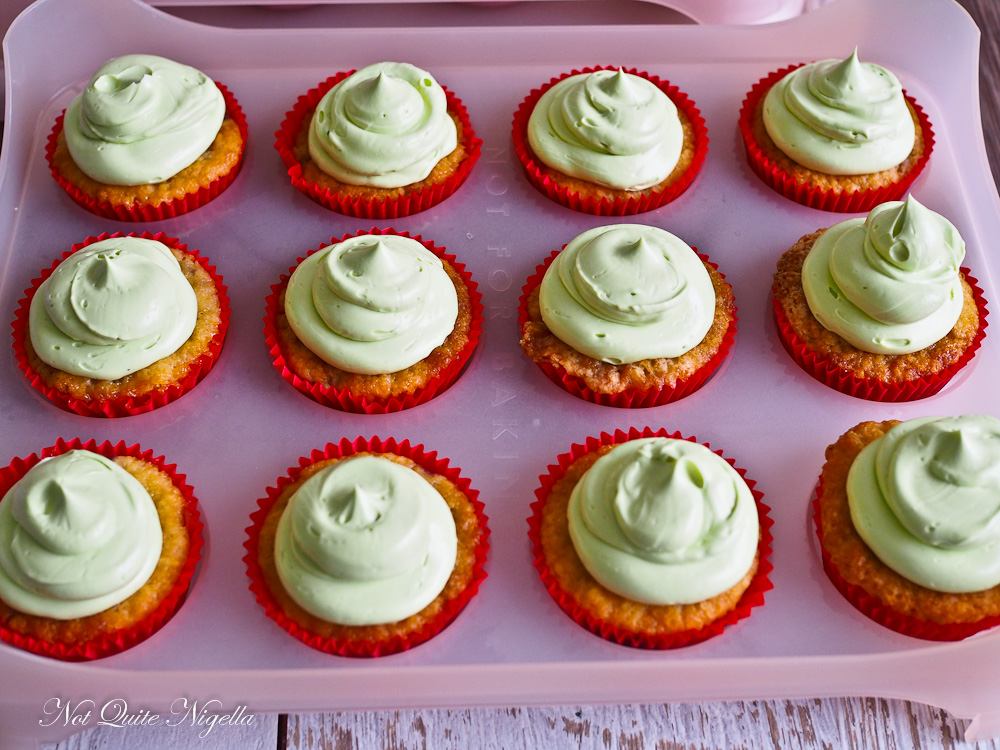 Step 2 - Make the buttercream. Beat butter in the bowl of an electric mixer until as white as possible on a low speed of about 3 out of 10 where 10 is the fastest. Do this for about 5 minutes. Beat in sugar, water, flavouring and green and yellow colouring in two batches. Beat and scrape for about 10 minutes until the buttercream no longer feels grainy (test it between your fingers). Set aside until ready to use. This buttercream does not crust. Pipe on top of the cupcakes.
Step 3 - Colour most of the fondant (reserve a small walnut size to keep as white) to a rough skin tone colour (mine was too pink so go gently with the colouring) and roll out and cut rounds out that will fit above the amount of buttercream. I put these on cupcake fondant domes to get the rounder shape as the buttercream won't have a rounded shape.
Cut out a circle in the centre with a large straw and draw a little red gel "blood" around the edge. Shape little "maggots" using the remaining white fondant.Place on top of the buttercream and serve within a couple of days.
Shaping little "maggots"
Say "Squeeeeze!!"
Magical Witch's Potion with Eyeballs
Makes 2 litres
4 teabags of Heart-tee Blue Tea Butterfly Pea Tea by Wild Hibiscus
2 litres hot water
1/4 cup sugar (or to taste)
1/2 cup lemon juice
Lychees stuffed with blueberries
Step 1 - Steep the teabags in water and sweeten to taste. Allow to cool. Place in a cup with lots of ice and a lychee stuffed with a blueberry. Add in lemon juice just before serving and watch it change colour.
Hellraiser Head
1kg/2.2lbs. twiggy sticks
1 styrofoam head
Toothpics
2x large bocconini balls stuffed with olives
Play teeth
Step 1 - Cover the styrofoam head with cling film and tape in place. Insert toothpicks into twiggy sticks and place around head leaving space for eyes and teeth.
Step 2 - Cut out a small hole in the bocconcini and insert olives and place in eyes. Place play teeth and wedge between the twiggy sticks.
Baked Face
750g/2.65ozs spicy beef sausages
1 egg
1 cup breadcrumbs
100g/3.5ozs. prosciutto, thinly sliced
2 tablespoon oil
400g jar pasta sauce
2x bocconcini for eyes
Stuffed olives for eyes
You will also need a mold for a skeleton Face
Step 1 - Preheat oven to 190C/374F. Skin the sausages and mix the meat with the egg and breadcrumbs. Oil the mask and then press the meat into the mask. Place the pasta sauce in a pot. Remove the meat from the mask and it should be in the shape of a face. Bake for 30 minutes.
Step 2 - Place pieces of prosciutto on the face. Cut out centre of the bocconcini and place the olive in the cavity to make an eye. Place the bocconcini in the eye cavities.
Monster Mash
1 kilo purple sweet potatoes (ones that retain their purple colour)
50g/1.7ozs. butter, melted
salt and pepper
1/4 cup of chopped spring onions
stuffed olives
kernels of corn for teeth
Cherry tomatoes sliced for mouth
Step 1 - Boil the potatoes in their skins until soft. Remove from the water and allow to cool and remove the skin. Mash the potato and mix with melted butter, salt, pepper and spring onions.
Step 2 - Spoon into cups and add olives for eyes and corn for teeth and halved cherry tomatoes for a mouth.
Many thanks to Q Station for hosting us and for The Party People for the props as they really do have a huge selection of goodies for parties. And if you want to book in for a Q Station ghost tour, you can do so as they have specially formatted ghost tours running from 6:30pm Friday 27th October to Tuesday 31st October, 2017.