It's Spooky Season my fellow ghoul babies and that means it's time for another Halloween extravaganza! This time we would be holding it in our new house. Take a look inside and see the decorations, the food served and the costumes we wore. And there was no shortage of drama and fun this year!
When Mr NQN and I first saw this house I stood around the garden my eyes shining with excitement. "You're picturing Halloween here aren't you?" he said. I nodded. The gargoyles, gnomes and lanterns lent itself to a distinctly spooky vibe and because I feel that fate is gently guiding me in life, we ended up living in this Federation style Halloween house.
Halloween Recipe Quicklinks
Click here for Screaming Hot Potato Recipe
Click here for Dismembered Foot Pastries Recipe
Click here for Pumpkin Cream Cheese Garlic Bread Buns Recipe
Click here for Pumpkin Biscoff Butter Board Recipe
Click here for Beetle Apple Pies Recipe
Click here for Click here for Pumpkin Punch Recipe
This year would be the clashing of two events - a home renovation and a Halloween party. The downstairs bathroom was towards the end of its renovation but it wasn't quite there yet. The heated floors and floor tiles were in, the bath, toilet, vanity and taps were in but the window, feature wall tiles, shower and ceiling were to come. Luckily Halloween lends itself to a haphazard vibe so it didn't bother me that much.
I tried to plan as much ahead as possible and bright and early on the morning of the party I woke up at 7am with a spring in my step like a kid would at Christmas. My running sheet had given me time to work out, have a cup of tea and ease into preparations. Katie was coming over to help me decorate. She's an event planner and this her forte so I was delighted for the help.
As the house was still dusty from the renos I booked a cleaning service to come that morning at 11am and Katie was scheduled to come at 12:30pm to decorate while I cooked. At 11:30am the cleaners had not arrived and then the internet went down. I started to panic and by 12pm I was pushing a vacuum and Mr NQN was filling a mop bucket. The cleaners arrived and super apologetic and they looked so stressed that I felt so sorry for them. Mr NQN then fixed the internet and the two crises was averted.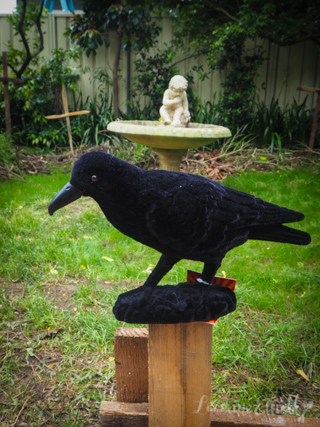 Katie had three huge boxes of goodies to put out. A couple of days prior I made my annual pilgrimage to The Party People in Drummoyne who have the BEST Halloween selection of props. I spent a couple of hours there trolling the aisles and putting things into my shopping trolley (with a big house I needed lots of props). I also needed to buy things to decorate outside our house because we may get trick or treaters this year!
My favourite prop is this doorbell that opens its eyeball which then swivels around and talks to you when pressed. I also loved the books of spells as well as this glorious velvet black crow and it always astounds me how they get such fantastic, new stock every year. Just when I think some things will be repeated they'll get in an amazing clock or something in.
My costume was a little hard to guess for some. Queen Viv tried to dissuade me from coming as this person because she felt like nobody would know who the character was but I pointed out that that is not the point of Halloween. The spirit of Halloween is getting dressed up as someone that you're not. My costume started off with a blonde wig. Many years ago I bought an expensive blonde wig by a brand called Noriko. I have barely worn it and it sort of got lost with every move but when we moved to our new house I found it again and I thought "Angelica" (the name of the wig style) had to make her Halloween debut so that I could have a respectable cost per wear ratio.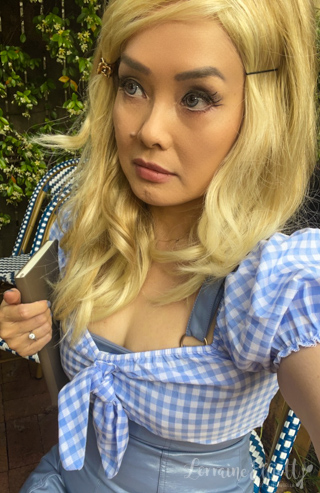 At first I wanted to come as someone like Pamela Anderson as I had just watched Pam and Tommy the tv show but Pamela has a fringe and this wig didn't and I didn't want to cut it. Then I realised whose hair this looked like...Cassie from one of my favourite tv shows Euphoria in her Oklahoma outfit! Getting dressed up as Cassie was crazy because I'm definitely a Maddy (and it would have taken me a second to go as Maddy as I have clothes like her too) but my wig Angelica piped up and she wanted an outing so Cassie it was. I bought some blue contact lenses and Queen Viv helped me make the gingham bolero and I had the dress already.
Did I mention my friends are the best? I sent the list of food items to Valentina for her to apply her artistic hand to for the signs. Katie is an event planner for a Fortune 500 company so I was so lucky to be able to get her skills. When Katie arrived she got to work on the decorations and I kept going with the food.
I was making 10 things this year and I only realised on the day that most of the Halloween food was actually vegetarian. The only meat item was the meatball eyeball subs. I tried to make a lot of savoury food because I know that people will be eating their dinner at our party.
Eyeball Subs
Sometimes you just need to give someone the bloody eyeball. I found these cute little mini brioche hot dog buns at the supermarket so they became the vehicle for my favourite ever meatballs (I'll share the recipe for these soon). The eyes are made from sliced, stuffed olives. These can be made ahead and kept in a tray covered with foil in the fridge and then gently heated in the oven with the foil still on them (120C/248F for 10 minutes).
These dismembered foot pastries were stuffed with sauteed leek, baby cavolo nero and provolone cheese! These were one of the most popular items and you can make them a day ahead and then warm them up in the oven (120C/248F for 10 minutes) just before guests arrive.
BOO 'berries!
I'm going to come clean Dear Reader. My original idea for chocolate dipped strawberries was different but things went awry so I basically threw some chocolate at the problem and made them these BOO Berries!
Pumpkin Cream Cheese Garlic Bread
These Korean Pumpkin Cream Cheese Garlic Bread buns worked a treat and I made them ahead of time and then just heated them just before everyone arrived. They stayed puffy and soft all night!
Creepy Candy Platter
The idea for a creepy candy platter came to me when I went to the Party People as I saw that they had candy corn! Although it doesn't taste like much, it's always associated with Hallowe'en so I had to buy some and before long I was making Halloween pocky, buying eyeballs and picking through jelly beans for the spookiest colour.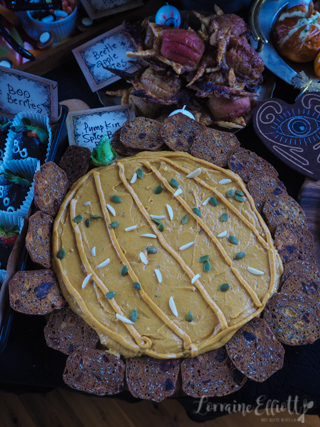 Pumpkin Spice Butter Board
I'll let you in on a little secret. I made a double lot of this pumpkin Biscoff butter board a couple of weeks before and froze half and then defrosted it on the day and it still turned out super tasty! While a sweet dip is not as common as a savoury one it quickly found some fans and Tuulikki liked it so much she took the leftovers home!
Beetle Apple Pies
I think most people were surprised that these beetle apple pies tasted just like apple tarts when they looked a bit more sinister.
Honestly I did not know how these would go down because who really wants to walk around a party with a whole baked potato? But these were popular and they're so easy! Just serve with sour cream and sweet chilli sauce!
Pentagram Pizza
These pentagram pizzas were so easy to do as I used pre-made pizzas. All you have to do is add more cheese on top and once baked draw a pentagram with Sriracha sauce! OR you can slice them up using a pizza cutter in pentagram slices.
Back to the party prep! Mid-afternoon I looked out the doors and saw Mr NQN, Peter and Peter's son Charlie hard at work in the garden. My jaw dropped. These three amazing guys had built me the spooky Hallowe'en garden of my dreams! They had put in a rickety fence and they made a creepy coffin! They buried it in the dirt that Mr NQN had recently dug up when he found the concrete slab under the grass. Their ingenuity astounded me. Our builder Peter consistently goes above and beyond the call of duty and Mr NQN loves hanging out with him and doing projects with him and creating things.
It was time to get dressed and I changed into my Cassie outfit just before everyone arrived. The dogs didn't escape costumes either. Milo was part of Mr NQN's costume. While Teddy is anxious Milo is pretty unflappable and Mr NQN fashioned him a comfortable seat in a milk crate and popped a blanket around him. Say hello to Elliot and E.T.!
"Did anyone order tacos?" was the first thing I said to Mr NQN when I entered his office carrying Teddy in his taco outfit. Dogs mostly hate costumes and Teddy is usually no exception. However he was absolutely fine with this one as he treated it just like a coat. It was so easy to get on with velcro fastenings and I definitely recommend this costume if you want your dog to be comfortable. He wore this for hours without trying to scratch it off or wriggle.
Taco Teddy
As soon as Mr NQN finished getting his photo taken the doorbell rang. It was our first guests. He was very excited because he had set up all of this automation with smart bulbs. When the door detected motion then it switched on the red lights in the hallway and music played and a sinister voice invited everyone to come in.
That morning Monica told me that she had had an encounter with Jehovah's Witnesses that had put her in the Halloween mood. Monica and Marco came as cult members carrying a bottle of "Kool Aid" (cranberry lemonade with rosemary)!
Valentina and Peter arrived as a bloody doctor and nurse - have a close look at their name tags! I wouldn't trust that doctor!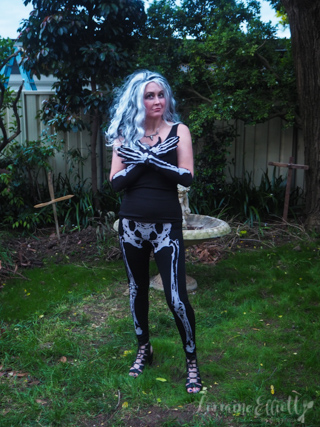 Ivy came as a skeleton while Ryan stayed at home as he wasn't feeling well.
Mr NQN's sister Amaya came as a witch and her kids came as skeletons. Jett (in the lit up costume) said that he had died at a picnic and was carrying a picnic set. Her husband Laporello tried to explain his outfit to me. We often debate/argue because he's an anti feminist and I'm a feminist. I think he was trying to tell me that he came as Jordon Peterson but I didn't really quite get why he was wearing a black cape and why he had a strange Twin Peaks accent (I thought he was trying to be the dancing little person in Twin Peaks) so maybe it was someone else.
Julie came as Princess Diana. Our angel fountain wasn't quite the Taj Mahal but you can only work with what you have. Her bruise make up was incredible and I couldn't stop staring at it while I was talking to her (she watched a youtube tutorial).
Katie came as the Queen of Hearts complete with glitter eyelashes!
Daniela and Lutz (who are Valentina's neighbours) were zombie Hawaiian tourists.
Laura came as a mermaid that was killed due to climate change!
Queen Viv and Miss America arrived together. They usually team up for costumes and Miss America had proposed that he come as Olivia Newton John in Grease (carnival scene) and Queen Viv as Judith Durham but she opted for the Angel of death instead.
I actually took a proper photo of Miss America who had the most wonderful costume as Sid Vicious but I couldn't find them on my camera at all! So I'm afraid this is the only picture that I have. It was as always, an amazing costume.
Mr NQN's brother Manu and his mother Tuulikki arrived only one and a half hours late! So according to Elliott-time they were early ;)
Notable absentees were Nina and Garth who booked their first weekend away in two years long before I set the date. Also Girl Next Door is a marriage celebrant so she isn't free on any Saturdays during wedding season (which basically runs through October). But we did get a nice surprise when Sammie who moved back to the U.K. phoned in for a face time call with Teddy Roo so that she wouldn't have too much FOMO!
Valentina brought these coffin curried egg sandwiches that were utterly delicious. They disappeared really quickly and were so soft and fresh. She used fresh eggs from the chickens in her backyard which I think is the secret to how good they were.
She also bought some Crazy Eyes donuts and a Frownie Brownie cake!
Katie somehow managed to go home, get dressed and make a couple of things within the space of a few hours. She made these delicious vanilla cupcakes and a Char-spookerie hand.
Milo marshall reporting for cutie duty!
Katie was also super helpful and took on the job of being Milo's marshall all night as this was his first party. Teddy is a bit more of an old hand at parties and when he had enough socialising he took himself under the food table and rested.
And Laura also brought her new man for the night, Patrick the pumpkin and her Pumpkin Punch with Whipped Rat Guts! The punch was amazing and everyone helped themselves to it she kindly gave me the recipe below. We also have a lovely tradition where she brings me some flowers from Poho and these were vampire roses!
Vampire roses
Everyone really knows each other and they look forward to catching up every year. For some it was the first time seeing our house renovations. And truthfully up til the night before this whole area was covered in boxes and a big layer of dust! It's amazing what can happen when you have to clean up.
And of course the night ended with a game of charades. We split up into 2 teams and created lists of horrifying words. Some of the hardest to act out were (bizzarely) British Prime Minister but easy was Jeffrey Dahmer and they threw in a Machine Gun Fellatio to me to get me to act it out.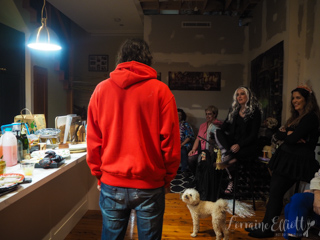 Teddy trying to help Mr NQN
Manu trying to figure out how to express himself through dance
As for the weather, this year we lucked out after a few years of rain. The wind was strong enough to keep the mosquites at bay but still warm enough so that people could venture outside for some fresh air (and to appreciate the vibe of our graveyard backyard I hope! :) ).
So tell me Dear Reader, what are you doing for Halloween this year? Which food would you like to eat the most?
Did you make this recipe?
Share your creations by tagging @notquitenigella on Instagram with the hashtag #notquitenigella
Dismembered Foot Pastries
These severed foot pastries are filled with a cheese and spinach filling encased in butter puff pastry with flaked almonds for toes. If you count your piggies carefully you'll notice that some feet have 6 toes!
Click here for Dismembered Foot Pastries recipe
BOO 'Berries
These chocolate coated strawberries are dipped in Callebaut dark chocolate tinted with a black edible colouring powder. Liquid food colouring gels will make chocolate seize so always use oil based colours or powders when colouring chocolate. I used white chocolate in a small piping bag to pipe "BOO" on each strawberry. Look for flat, large strawberries for your Boo 'Berries!
Pumpkin Punch with Whipped Rat Guts
Add a splash of Halloween drink enchantment to your spooky celebrations with pumpkin punch, a delightfully spiced concoction made with a delectable base of spiced pumpkin caramel with apple juice and ginger beer. This delicious Halloween punch is non alcoholic and an absolute hit as it is served in a giant hollowed out pumpkin!
Click here for Pumpkin Punch recipe
Eyeball Meatball Subs
These eyeball meatballs subs are so simple but effective. I made my favourite meatballs, bathed them in a tomato pasta sauce and then wedged them in mini hot dog buns and added sliced, stuffed olives for eyes. They're a great savoury snack because I always like to serve up lots of savoury food. You can serve them warm and they're easy to heat up and can be made ahead of time! And if you have people that drink it's a good snack to have.
Screaming Hot Potatoes
Get ready to add a fiery kick to your Halloween party with screaming hot potatoes. These spicy roast potatoes with a "Scream" face are seasoned with sour cream and sweet chilli sauce. They are a fun savoury snack for when you want to give people something tasty and filling that is also vegetarian friendly (or vegan friendly if you don't eat the sour cream). These will leave your guests screaming for more!
Click here for Screaming Hot Potato Recipe
Pentagram Pizza
This is another really easy food idea that you can serve half way through the Halloween party using pre-bought ingredients. I ordered some Hank's Hot Box margarita pizzas. Then I added 1 cup of shredded mozzarella/provolone cheese. Then bake it as instructed. Then drew a pentagram on top in Sriracha chili sauce!
Halloween Candy Platter
I love making up platters. Can it a fetish or a compulsion but I find setting out things on a platter soothing (but then again I find Halloween music soothing too). I made up my Halloween Candy platter with my homemade Halloween Pocky, black cat lollies, snake lollies, teeth lollies, licorice "pills" and jelly beans (where I selectively picked out the spooky colours). I also bought the candy corn, pumpkin lollies and eyeballs at The Party People along with the cute spider candy dish!
Halloween Pocky
Halloween Pocky is a fun project for adults or kids to try! There are so many designs of Halloween Pocky you can make and here are 5 ideas that range from very easy to easy. Homemade Halloween Pocky are so effective, fun and best of all, it's such a delicious snack!
Click here for Halloween Pocky Recipe
The recipe for these Korean Cream Cheese Garlic Bread Pumpkins is here.
If you're looking for something on trend to bring to Halloween then the pumpkin spice butter board is for you! The recipe for Pumpkin Spice Butter Board is here.
I made a batch of these beetle apple pies a couple of days before and froze them. The night before I put them in the fridge to defrost and then heated them up for 10 minutes on 150C/300F. Click here for beetle apple pies recipe