These adorable, colourful dripping ice cream cone cookies may just make your heart sing with happiness. Made with a sugar cookie base and topped with colourful royal icing they are a whimsical treat to usher in the warmer weather. And don't worry you won't get melted ice cream on your hands! ;)
A few of you Dear Readers have asked me what press trips are like. Usually they have a group of writers attending, it's usually a mixture of bloggers, vloggers and journalists. And they're usually a hot bed of politics and egos. Some can go brilliantly and most of the time you can become friends with the other writers. Others are a mixed bag. And this was one of those.
I hate to say it but trips with just female writers attending can be the hardest. I'm not sure why and I went to an all girls high school so I should be used to all of the madness that can happen and this trip in question had four women and a male host. Everyone was from different parts of the world and when we came together, well it wasn't quite a dinner party on Real Housewives of Beverly Hills (as in there was no glass throwing) but there were plenty of challenging moments.
It started with a plane ride where we were to pick seats. "I want the front seat," said Cassie, who I later became friends with. Rhonda asked for the seat behind the pilot and Jenny asked for the seat next to her. This left me with the back because I tend to sit back and not ask for things and clearly I wasn't vocal or fast enough and because I was the turtle I got the bum end of the deal.
"Oh don't worry, the back seat has some very cool windows that can open up," said the pilot. Jenny whipped her head around. "Let's flip for it! I want the back now! Let's flip!" she said aggressively.
I'm usually pretty easygoing but considering I just took what nobody wanted I wasn't going to flip for it to get screwed over again. Jenny pouted, climbed onto the plane, demanded that I take photos for her and huffed when they weren't good enough a thank you never passing her pursed lips.
One night, another writer overheard her screaming at the host at 2am in the morning. "F& you Johnny!! I knew it!! F& you Johnny!!" she screamed. We never heard what that was about. When Rhonda told us about it I was so stunned that I let the ice cream pie that I was eating melt in a puddle as we wondered aloud what on earth could have caused the 2am outburst.
I'm not a very good ice cream eater I must admit. I do like it when it melts a bit and as a result it gets all over my hands. But what if I could do melted ice cream in a cookie form? I was inspired by Sue from Munchkin Munchie's ice cream cookies. She made two kinds and as I had a cutter for the left hand one, I decided to try some melted ice cream cones because that's how my ice cream cones usually end up.
Even if you don't have a cone cutter, you can use a round cutter and use Sue's wafer trick to make the cone. They're covered in a colourful mix of royal icing colours and finished off with some sprinkles and a mini m&m as a cherry. And unlike actual ice cream, it won't melt while you are being fed some juicy tales!
So tell me Dear Reader, do you like your ice cream melty or chilled? Do you have a favourite ice cream flavour or brand? And can you eat a whole tub? And are you the type to speak up or are you more laid back when it comes to first dibs situations? Would you have let Jenny have a second draw?
DID YOU MAKE THIS RECIPE? Share your creations by tagging @notquitenigella on Instagram with the hashtag #notquitenigella
A Hot Summer's Night Ice Cream Cone Cookies!
An Original Recipe by Lorraine Elliott/Not Quite Nigella
Preparation time: 10 minutes plus resting time
Cooking time: 8-10 minutes
85g/3ozs butter, softened
140g/5ozs/3/4 cup white caster superfine sugar
1 egg
1 teaspoon vanilla
180g/6ozs/1 1/4 cup all-purpose flour plus extra for rolling
Royal icing
1 egg white
260g pure icing sugar, sifted
2-3 tablespoons water
Colouring gels in pink, brown and aqua
Flavour essences of your choice (you can match these to the colours)
2 tablespoons sprinkles
Small handful mini M&Ms
You will also need an ice cream cutter
Step 1 - Line two trays with parchment. In the bowl of an electric mixer, cream together butter and sugar until smooth. Beat in egg and vanilla. Stir in the flour. Cover, and chill dough for at least one hour (or overnight).
Step 2 - Preheat oven to 200 degrees C/400 degrees F. Roll out dough on floured surface 1/4 to 1/2 inch thick. Cut out into ice cream shapes and gently lift onto parchment lined trays. Bake for 8 minutes or until light golden. Cool completely on tray.
Step 3 - Make the royal icing by mixing the sifted icing sugar, egg white and water together. You want two textures for the Royal Icing, a stiff one to pipe the outline and a runnier one to fill in the outline. Divide into five bowls: a hot pink, a very pale pink, teal, chocolate brown and tan.
Always cover your Royal Icing with cling wrap as it dries out easily. Once you had a pipeable consistency, spoon a little into some piping bags (I make these out of a square of parchment) and snip off the ends. Draw an outline around the cookie as shown. This is the border that ensures that the royal icing stays within that border. Put the filled piping bags in an airtight container when not in use.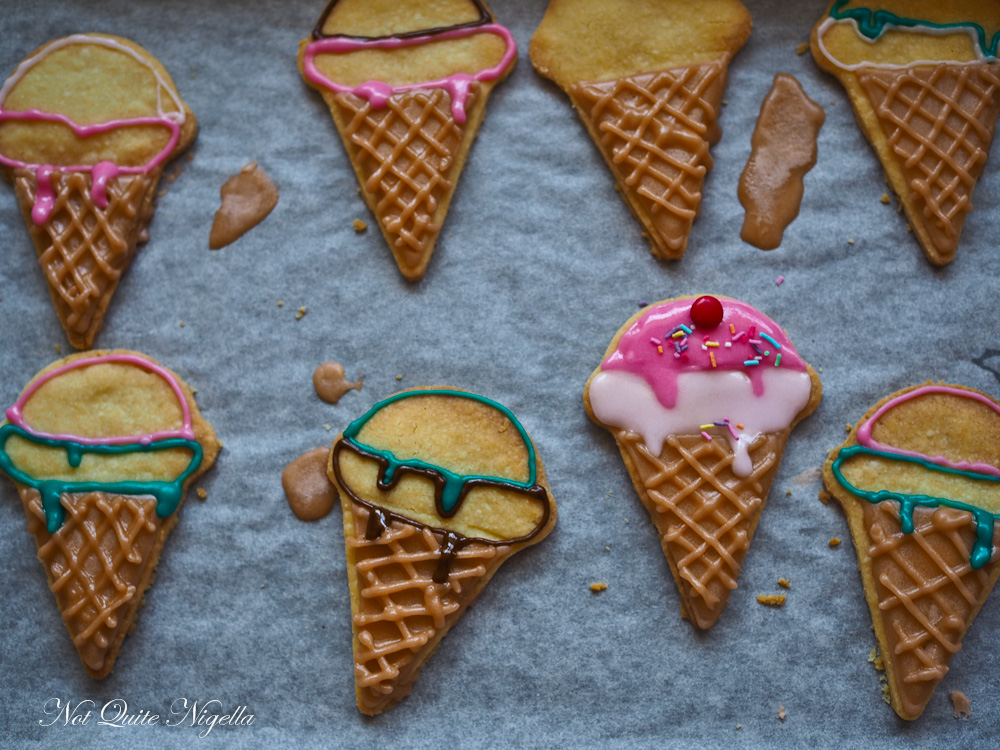 Step 4 - Once it has set hard, add a tiny bit of water to the icings to make them a bit more liquid. Spoon (I use some tiny spoons to make the job easier) the icing into the centre and either spread out with the back of a spoon or gently tap the cookies on the tray to settle and disperse the icing. Add sprinkles and M&Ms (for cherries) while the royal icing is still wet. Allow to set completely and draw on the ice cream cone waffle pattern with the icing pen.