My Dearest Ghouls, every year I look forward to Halloween and this year was no different. But after hosting Halloween parties for 8 years straight I wanted to shake things up a bit. So I decided to pare back my guest list and give my friends an experience that they hopefully would never forget.
There would be a ghoulish afternoon tea, face painting, cocktails and a 6 course degustation-ahem I mean disgustingation (it's a word if you say it is :P) full of ghoulish treats and red wine all in a maginifcently gothic, taxidermy laden house. Take my hand Dear Ghoul and let me lead you into the woods!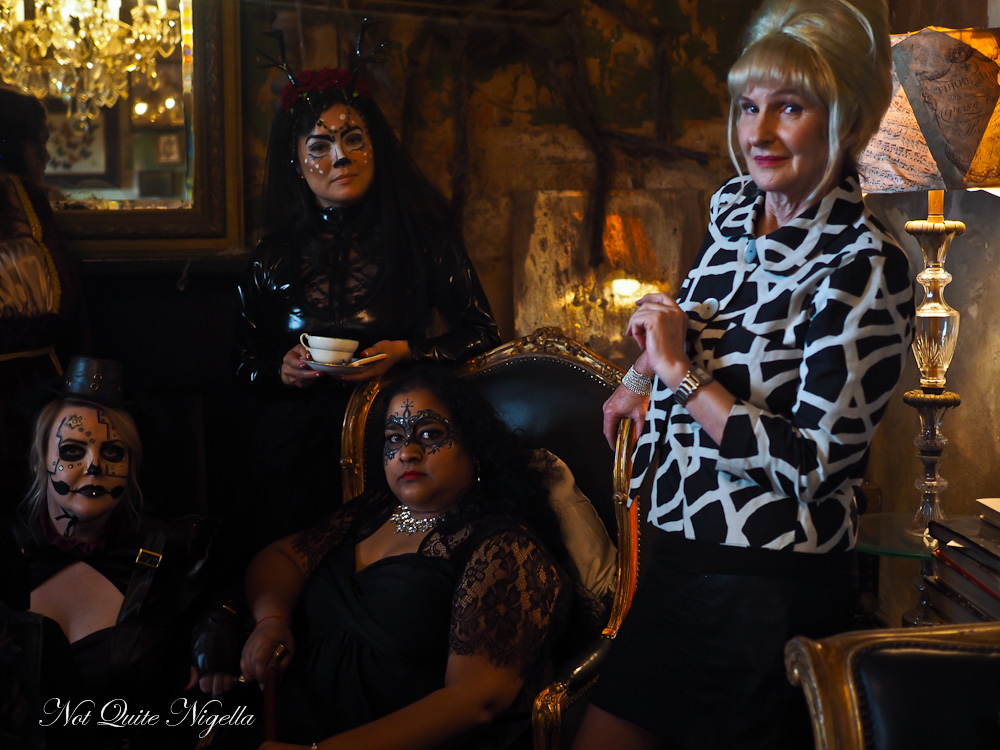 Grrrls (from left) Belinda, me, Louise & Queen Viv
The week before Halloween is full of strange food and I warned Mr NQN that his lunchbox might contain a few surprises all in the name of recipe testing. There were exploding choux buns, black as the night soup noodles, "scabs" and all sorts of strange food items that would eventually find their way onto the menu.
My dream Halloween was first in motion a couple of months ago. I had grounded myself from travelling for the whole month of October and busied myself with prepping all the details for Halloween.
I rented a house for the day and it was already extravagantly decked out in quirky touches and taxidermy so I only needed a few things from my friends at The Party People.
My invitation asked guests to match their costumes with the vintage surroundings. The next step was to hire a face painter for the occasion because last year we had our faces painted at a restaurant and I thought it was just about the best idea ever for Halloween plus it's the only way I'll get Mr NQN to appear in any photographs.
There are plenty of face painters in Sydney but most of them do kid's parties. I went with one that had a good gallery of Halloween faces and adult faces. Then my last step was to have Mr NQN's brother take photos of the fun because he is works as part of a television crew and because I also wanted to have fun with my friends.
Afternoon tea started at 4pm while each of us went in for our makeup. I was wearing antlers and a veil so I decided to go as a deer or as other people pointed out, as a snapchat filter.
Viggo and Louise
One by one we had our make up done by Aspasia from Bewitched Faces. The afternoon tea selection was a menu of Jack Skellington blackberry pies, Black Widow macarons, Haunted House Sugar Cookies and "rotten egg" coffin sandwiches.
The blackberry tarts were bursting with blackberries with a tart flavour and shortcrust pastry. The black macarons were topped with blackberry gums on top and decorated with lace like royal icing while the pumpkin pie spice Haunted Houses sugar cookies were perfect to dunk into cups of tea.
The ladies at the nail salon thought I was bonkers wanting this design on my nails. They're probably right...
At 5pm there was a knock at the door and it was Queen Viv and Miss America, late of course, and off brief of course as they tend to do their own thing. They arrived as Eddie and Patsy from Absolutely Fabulous!
Me, Miss America and Queen Viv
"I don't eat food you know that but these have got to be the best egg sandwiches I've ever eaten," quipped Queen Viv aka Patsy while nursing a bottle of vodka.
Belinda creeps up on Miss America
The sandwiches were a last minute addition - I wanted to add avocado (the green or rotting bit) but at the supermarket they were all rock hard so I mashed some peas, added it to the egg along with chives, aioli and horseradish cream and served them on buttered white bread shaped as coffins.
Miss America sexually harasses himself with Viggo's help
Miss America aka Eddie Monsoon took turns batting his eyelashes at Manu, Mr NQN's brother who was busy taking photos. He then moved onto Viggo who was playing the piano.
Belinda's greatest nightmare
When Belinda lay back to close her eyes she awoke to her biggest nightmare, a giant spider crawling over her. Mr NQN and Julie battled over whose crucifix was the largest.
Mr NQN & Julie compare cross sizes
One by one everyone emerged from having their faces painted. Belinda went all steampunk to match her outfit while Louise decided on a detailed mask drawn around her face.
I serve Viggo some tea
But when Julie came out with a purple sequin and jewelled face we couldn't believe how Aspasia had managed to create such an elaborate and sparkling face.
Julie's face painting
Viggo and Mr NQN were last to have their makeup done. Viggo had already planned his outfit way in advance and his face make up was as a homage to A Clockwork Orange and Mr NQN was a possessed priest. He even found time to throw a fake spider Belinda's way and flailing and blood curdling screams ensued (never tell an Elliott your biggest fear is all I can say because they will hone in on it).
Mr NQN apparently now loves having his face painted
After make up was done and afternoon tea was nibbled on, we moved everything to the dining room. Moving the party to a smaller group was a tough decision because I love having lots of my friends around at Halloween but I knew that if I were to cater a 6 course dinner there would be a limit as to what I could physically do myself.
Cocktails were passed around and everyone sat down for their 6 course degustation ahem disgustingation.
On the menu were Scabs & Eyeballs, Bloody Mary Oysters, Vomiting Buns, The Eyes are Always Watching Squid Ink Ramen, Vanilla Killer Cake and a Stinky Cheese Graveyard with Bat Crackers!
The scab snacks were easy, just baked parmesan cheese with tomato sauce for blood. We told everyone that Miss America's recent trip to the hospital had meant he was busy collecting scabs from patients! The eyeballs were pepper dews stuffed with a sliced black olive. The Bloody Mary oysters were enormous Pacific oysters with a fresh Bloody Mary mix on top that Belinda had mixed up.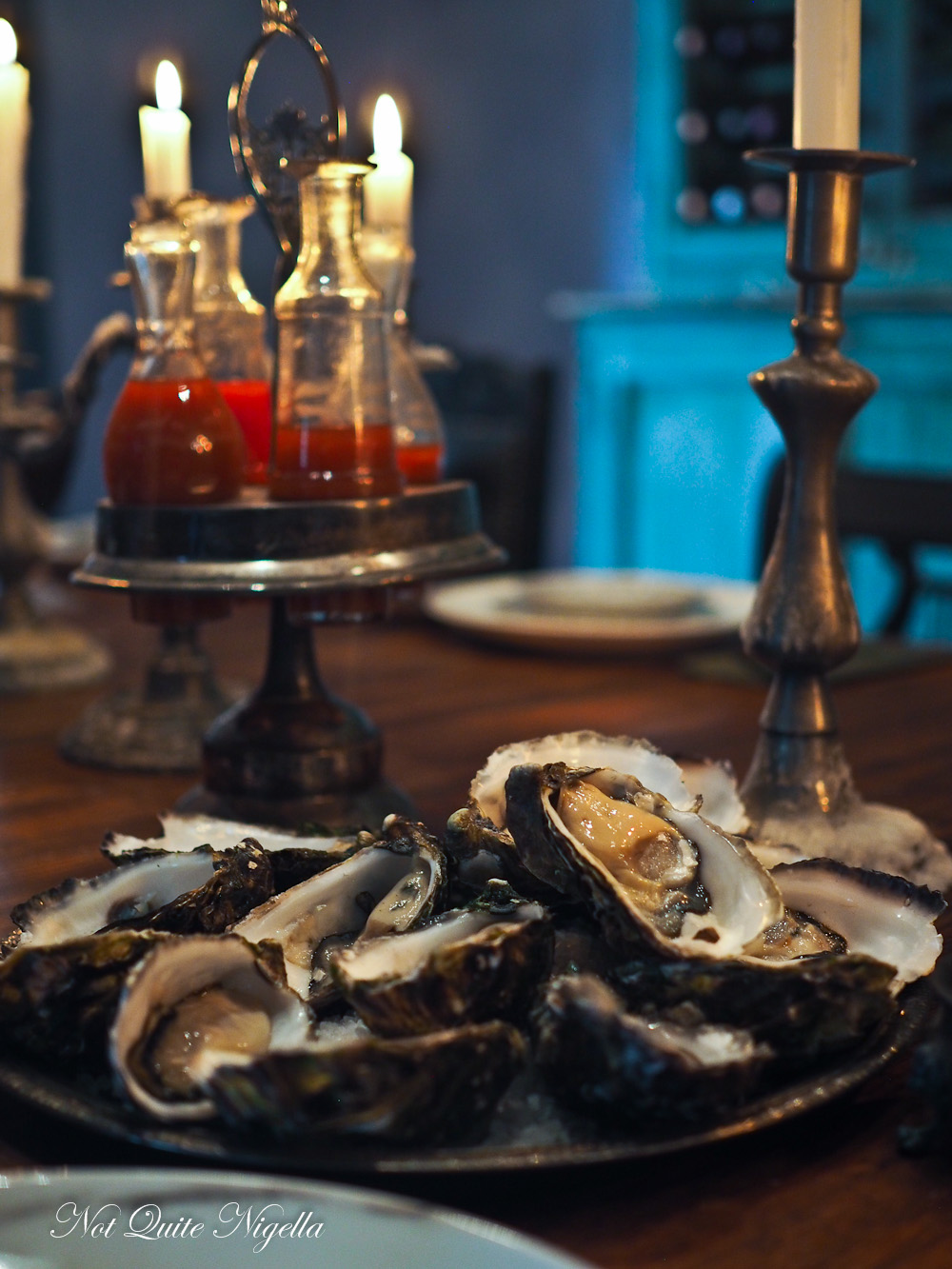 The next course was a tricky one because I didn't have the ideal equipment. Vomiting buns are a fun, popular items in Chinese restaurants where they make them with steamed buns filled with custard but I wanted to make them out of choux pastry because it is easier and I wanted to fill them with bacon, cheese and chive filling with carrot because well you know what they always say, why does vomit always have carrot in it? Too much vomit talk? Sorry!
Anyway, with choux buns you need to poke a hole into them to let the steam escape when you remove them from the oven. That also serves as the mouth and when you press down on the bun...well custard or vomit comes out! I'll share the recipe for these another day because they are incredibly fun.
The main course was a squid ink ramen. A little bit of squid ink goes a long way and I loved the dark, mysterious tangle of black tendrils-it reminded me of Medusa's hair. I went with an eye theme with salmon caviar and fish balls with a simple broth finished with masterstock.
Dessert was a two part affair: a slice of Killer Vanilla cake with a surprisingly red centre. There were just enough candles for each to us to make a wish so we all did so as we blew out the candles. Despite the name inside beats a vibrant red heart.
This was followed by a Stinky Graveyard Cheese Platter featuring four fabulous aromatic cheeses, blueberry paste (a cousin to quince paste), black grapes and home made bat crackers.
We took the cheese into the drawing room where Mr NQN and Viggo had set up a little surprise for everyone. Storytelling Jack O'Lanterns!! I can't remember where I first saw these but I really wanted to have them as part of Halloween.
This was me the night before Halloween. I'm not even joking :)
The night before the party I was dead tired from looking after a dog for four days and Halloween prep. I crawled into bed before weakly begging Mr NQN to "get me ze talking pumpkin dahlink!!!" before dramatically collapsing into a deep sleep. Well he did and they are so much better than a carved pumpkin (and a lot easier, less messy and cheaper too!). I used some pumpkins from The Party People and projected the image of the pumpkins using a projector and the Jack O'Lantern animations from this store as a few of you already asked me on Instagram and Snapchat where to get these.
Murder at a Dinner Party
And no Halloween in our creepy, kooky land can end without some games. Charades is always a favourite for us and is easy for us to do. We split up into two teams and devised lists of Halloween related things while skeletons danced on cupboards in the background. And a little tip: a hard word to spell out in Charades is "Dementor" and it had Viggo ducking under a black tasselled lightshade in an effort to convey the Harry Potter demons.
Me being an unconvincing demogorgon apparently
Anyway that's enough of our silly Halloween antics! Without further ado, here is this year's Halloween recipes...happy Halloweening my dearest ghouls!
Love,
Morticia
xxx
So tell me Dear Reader, are you doing anything for Halloween this year? Do you usually celebrate on the day itself or the weekend before? Do you like getting dressed up in costumes? And when is the last time you got your face painted?
DID YOU MAKE THIS RECIPE? Share your creations by tagging @notquitenigella on Instagram with the hashtag #notquitenigella
Rotten Egg Coffin Sandwiches
I already had plenty of sweets for afternoon tea but I wanted to make something savoury. And sandwiches are perhaps my favourite part of afternoon tea along with the scones. This was a surprising recipe, I didn't realise that it would end up as tasty as it was and I made plenty but they all disappeared quickly. If you're a fan of egg salad sandwiches give these a go.
Makes 8 Coffin sandwiches
4 eggs, hard boiled and peeled
1/3 cup peas, lightly mashed
3 tablespoons fresh chives, chopped
1/3 to 1/2 cup garlic aioli
1/2 teaspoon horseradish cream
Salt and pepper to taste
Butter for sandwiches
1 loaf bread (soft which sandwich bread, 17 slices per loaf)
edible black ink
Fine paintbrush (for food, don't use a regular paintbrush you use for painting non edible ink)
Step 1 - Diced eggs and mixed with peas, chives and aioli, horseradish cream and season with salt and pepper.
Step 2 - Cut sandwiches in coffin shape (I used a cookie cutter) and spread with butter. Top with the filling. To make sure sandwiches don't dry out cover with a lightly damp teatowel.
Step 3 - Draw RIP in edible black ink on top of each sandwich. Blot the writing with a paper towel. Then cover with cling film and store in the fridge in an airtight container so that they remain fresh for up to 6-8 hours.
Jack Skellington & "Thing" Blackberry Pies
Truthfully I thought that these weren't as good as I wanted them to be. I should be clearer, while these tasted great, I didn't think that they quite worked in looks. It didn't stop them from being devoured but I think I may rework these to make the face detail, especially the mouth a bit more prominent.
Makes 12 pies
Butter to grease muffin tray
4 sheets shortcrust pastry, thawed in the fridge
1.5 cups blackberries and blueberries (frozen)
1/2 cup caster or superfine sugar
2 tablespoons cornflour/fine cornstarch
Vanilla extract
Egg yolk mied with 1 tablespoon milk for egg wash
Step 1 - Grease a 12 hole cupcake tray. Take two sheets of the pastry out of the fridge and cut out large discs that will fill the cavities and go all the way up the sides. Place on the cavities, they may still be quite firm but allow to warm up to room temperature for about 5 minutes and become more pliable. Then gently push them into the holes to make a base.
I used this size cutter for the base
Step 2 - Mix the berries, sugar, cornflour and vanilla together in a bowl. Spoon into the pie cavities and place the pies in the fridge until needed. Take out a round cutter that fits the top of the pie and one more sheet from the fridge (it's easiest to work with shortcrust when it has just come out of the fridge or it can get too soft and sloppy) and cut out circles for the Jack Skellington faces. I used an apple corer to cut out the eyes and a paring knife to cut out the smile. You may want to cut the smile out more than I did. Then I cut out fingers or hands. I did a variety of them and I liked the ones where the fingers were very slender and creepy.
Step 3 - Affix them to the top of the pies. Brush with the egg yolk and place in the fridge for 30 minutes.
Step 4 - Preheat oven to 210C/420F. Bake the pies for 20 minutes or until golden.
The Elegant Gravedigger
Nothing starts a dinner off better than a glass of wine or a cocktail. These were based on the Purple Rain cocktail we had on our ribs challenge but I thought that it was too sweet and syrupy. You can make this as tart as you want with the limoncello and limiting the blackcurrant syrup to a mere dash for colour. The lime juice really brings this all together.
For 1 cocktail
1 shot vodka
1/2 shot Limoncello (a really good one)
Generous dash of blackcurrant syrup
200ml soda water
Generous squeeze of lime juice
Berries on a cocktail stick to serve
Step 1 - Measure and mix together and pour into a glass rimmed with purple sugar. Serve with berries on a cocktail stick.
Scab & Red Eye Balls
One year I want to do a horror hospital themed Halloween and there always seems to be at least one hospital or body part item on the menu. These edible scabs are very tasty as they're just parmesan cheese crackers while the pepperdews are conveniently eyeball shaped!
1 cup grated parmesan cheese
2 tablespoons tomato sauce
Pepperdews
Pitted black olives, sliced
Step 1 - Preheat oven to 200C/400F and line three baking trays with parchment. Place small handfuls of cheese in round piles, about 2cms apart. Bake for 8 minutes. Brush with tomato sauce and bake for another 4 minutes. Serve with pepperdews topped with sliced olives.
Bloody Mary Oysters
A funny story. One Sunday we were driving through Redfern when a shop caught my eye. "Stop! I have to get out!" I said to Mr NQN (he is used to this sort of thing) and I hopped out to peruse this gorgeous antique store. I had never noticed it before although the owner told me that it had been open for many years. But it was so bright and blazing and calling my attention when I walked past.
He even let me into the back area which was an incredible jumble of bric a brac and lovely finds. It is where I found this sauce caddy, he thought to have come off a ship. It was the perfect vehicle for the Bloody Mary sauce (you could also use a syringe).
2 dozen Oysters
180ml/6 fl ozs. tomato juice
50ml/1.7fl ozs. vodka
1 tablespoon lemon juice
1 teaspoon Worcestershire sauce
Tabasco sauce
Salt and pepper to taste
Step 1 - Mix the tomato, vodka, lemon juice, Worcestershire sauce and Tabasco. Season with salt and pepper and serve with fresh oysters.
Squid Ink Ramen with Eyes
When I first made a practice run of this I put a picture up on Instagram and everyone thought that it was my hair covered in a hair treatment! Although squid ink ramen has a fairly strong smell in its raw uncooked state, once it is cooked it is rather mild tasting and it serves more for a visual effect. Lye water is tricky to so I've given a recipe using eggs and bicarb instead of lye water.
Serves 4 or 8 as part of a degustation
2 cups bread flour
1 teaspoon fine salt
1 tablespoon squid ink
With
1/2 cup lukewarm water approximately, you may need more
1 teaspoon lye water
OR
2 eggs at room temperature, beaten well
5-6 tablespoons lukewarm water
1/2 teaspoon bi carb of soda
For soup
4 cups chicken stock
1/2 cup masterstock*
400g crab or fish balls (ones that look like they have red veins are best, I found ones with peas that resembled eyes!)
Salmon caviar roe
Japanese Narutomaki, sliced up thinly
Step 1 - Place everything in a mixer fitted with a dough attachment and knead until elastic-around 5 minutes. Wrap in cling wrap and if it is a hot day, allow to rest for 2-3 hours or if a cold day, 4-5 hours. You can also store it in the fridge overnight.
Step 2 - Have a tray ready for the ramen and dust it with flour. Take the dough and cut it in half. Take your pasta maker and lightly flour it and pass it through starting at 1 until you get to the size 3. Then cut it in half again to make it easier to handle). Take the noodle cutter and attach it to your pasta maker. Lightly flour the cutter (I use a brush to distribute the flour) and then flour the pasta (otherwise it will bunch up in the cutter) and pass it through the finest cutter. Place on the prepared tray ready to cook. This is best when cooked straight away. Boil for 1 minute and then drain and divide among bowls.
Step 3 - Simmer the chicken stock and masterstock and then cook the fish balls until they expand. Add the ramen back in for a minute. Then ladle into the bowls along with fish balls, caviar, Narutomaki slices and coriander.
Smelly Graveyard Cheese Platter
Generally you want to avoid serving cheese that are fridge cold so allow time cheeses to come to temperature. This depends on the room temperature but can take about 1 hour or less in warm weather but as we had a cold night we left it out for 6 hours and it was still perfect although I'd leave the cheddar out for less time.
Brillat Savarin Cheese
Petit Munster Cheese
Truffle cheddar cheese
Squid Ink and Black Sesame Bat crackers (recipe below)
Black grapes
Blueberry paste
Step 1 - Cut the blueberry paste into a coffin shape and serve with cheeses, crackers below and grapes.
Squid Ink and Black Sesame Bat Crackers
1.5 cups plain all purpose flour
1 teaspoon salt
1 teaspoon sugar
1/2 cup warm water (approximately, you may need a bit more)
1/4 cup oil
2 tablespoons black sesame paste
1 tablespoon squid ink
Step 1 - Preheat oven to 175C/347F and line two trays with parchment. Place the flour, salt nad sugar in a bowl and mix with a fork. In a jug measure the water, oil, black sesame paste and squid ink and whisk. Pour into the flour and mix with a fork.
Step 2 - Cut into half and then roll out the dough until very thin-it doesn't stick to surfaces much so you don't need to flour the surface (unless perhaps it is wooden). Cut out bat and place on the prepared trays. Bake for 20 minutes or until very crisp.
Treat anyone?