For those who know me, I'm not likely to sing the praises of bread very often. I'm not a huge bread eater although I do appreciate seeded bread and a really sour sourdough. And super fresh Turkish bread and naan always get a look in. I don't often finish or eat a whole bread roll either.
So I've broken two personal rules after visiting the golden colour bathed Lüneburger German bakery in the QVB. It was started by Turkish born German expat Ahmet Yaltirakli who migrated here after living more than 30 years in the historical German town Lüneburg, spurred by a homesickness for German breads. I am initially drawn to the huge sweet pastries, strudels and scrolls on offer and I pick up a Redcurrant Buttercrumble, a whacking huge offering 13.5 cms in diameter ($3.50), a chocolate hazelnut croissant ($3) and for good measure, and because I do love a seeded roll, a Champion roll for the princely sum of 90c.
Redcurrant Buttercrumble $3.50
The Redcurrant Buttercrumble is huge. I had expected it to be more of a buttery danish but according to their website, its a wheat roll from an Italian recipe. The topping is oat based and every bite tastes of muesli studded with sweet fruit. It feels like a curious mix of healthy and unhealthy with its size tipping it in favour of the latter. Its not as sweet as it looks either, the tartness of the redcurrants and the plain bread balancing out the lashings of white icing.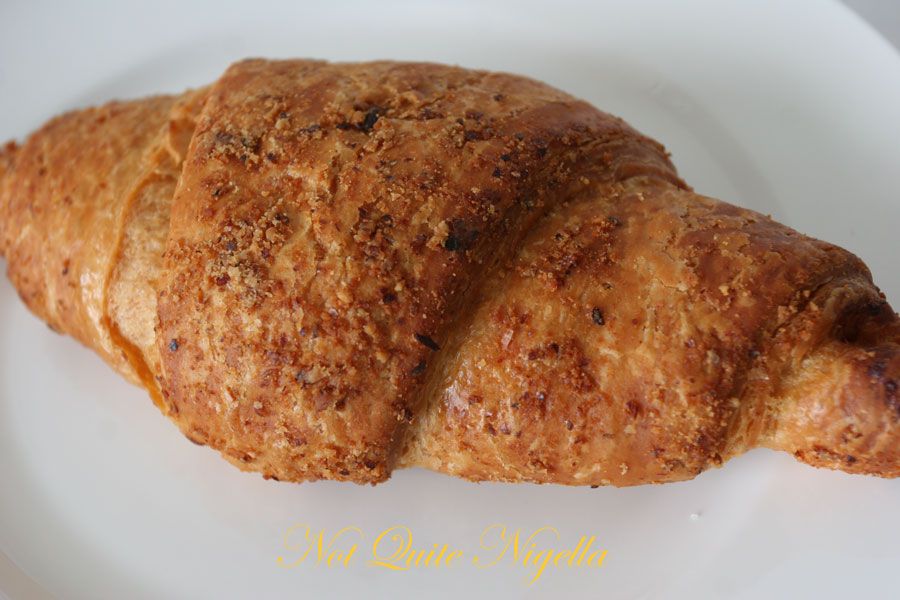 Chocolate hazelnut croissant $3
The chocolate hazelnut croissant, sprinkled on top with tiny hazelnut pieces, is filled with a smooth glossy chocolate and hazelnut spread. Its in two words delicious and morerish, the half I give to my husband reluctantly proffered. It seems less layered and buttery than typical French croissant, if I could describe it its more a cross between bread and layered pastry.
Champion roll 90c (top view)
My last item, the seeded Champions roll. Its large enough for a lunch roll and on the top is a mix of oat flakes, sesame seed and poppyseed whilst the bottom features sunflower seed kernels. I know I will like it but in fact I love it. Its incredibly good value for 90c too given how many seeds are in this. Its perfect just plain with good butter but even better the next day slightly heated up and filled with sandwich toppings.
Champion roll 90c (underside view)
Despite my lack of interest in David Hasselhoff music, I can definitely see myself appreciating German taste!
Lüneburger German Bakery, QVB
Shop 72 Lower Ground, Queen Victoria Building
455 George Street, Sydney NSW 2000
Tel: +61 (02) 9264 2377
Fax: +61 (02) 9264 2399
e: qvb@luneburger.com.au
Website: http://www.luneburger.com.au
Monday - Wednesday and Friday 9am to 6:30pm
Thursday - 9am to 9pm
Saturday - 9am to 6pm
Sunday - 11am to 5pm
Also locations at:
Macquarie
Shop 401-Level 4- Macquarie Shopping Centre
197-223 Herring Road -North Ryde- NSW 2113
Tel :+61 (02) 9889 4774
Fax: +61 (02) 9987 2842
Email: Macquarie@luneburger.com.au
Parramatta
Tel : +61 (02) 9635 5242
Fax: +61 (02) 9635 5233
Email: Parramatta@luneburger.com.au
Wynyard
Tel : +61 (02) 9299 7977
Fax: +61 (02) 9299 7867
Email: wynyard@luneburger.com.au