So there I was, waiting for a batch of blood for my annual Halloween party. Not the human kind mind you, but nevertheless a batch of blood. The only problem? It was about to arrive when I was going to have a meeting with my book publishers at Penguin to discuss publicity for my upcoming book.
"What am I going to do?" I asked Mr NQN. "It needs to be fresh, and I can't pick it up any other time"
"Bring it with you to the meeting?" he suggested.
"I suppose, I can't be the only author that has brought a bag of blood to a meeting, can I?" I reasoned.
Halloween Recipe Quicklinks
Click here for Rat Brownie Recipe
Click here for Black Crow Cupcakes Recipe
Click here for Haunted Graveyard Dip Recipe
Click here for Rotting Apple Teeth with Caramel Peanuts Recipe
Click here for Haunted House Cupcake Recipe
Click here for Watermelon Brain Recipe
Click here for BBQ Ribs and Intestines Recipe
Click here for Mummy Pizza Recipe
Click here for Pumpkin Pie Ghosts
Click here for Smokey Pumpkin Cheese Ball Recipe
Click here for Ghost Popsicles Recipe
Click here for Friday The 13th Hockey Mask Mushrooms recipe
Click here for Blood Pancakes Recipe
Well as it turns out, blood isn't the easiest thing to get and it ended up being late which saved me from a fate of explaining why I was carry half a litre of cryovaced pigs's blood (well at least it wasn't in a bucket and I wasn't in a 70's style prom dress I didn't have said bucket tipped over me a la Carrie...).
Every year I look forward to my favourite time of the year, Halloween where I get to say goodbye to the pretty and embrace the ghoulishly morbid. This year for Halloween I ended up making 14 items - I know 13 is a lucky or unlucky number depending on who you talk to but an additional thing just slipped in in my excitement. I prepped the party for the week prior to it-I was holding it early as I wasn't able to hold it on the last weekend of October and I also figured if anyone wanted to cook the recipes they would have time in order to make them. As I have for the past few years, I went to my favourite party supply store The Party People for items including a backdrop that would transform our neutral toned apartment into a dungeon and for good measure I hired a fog machine so that guests could be treated to the sight of a foggy, misty Halloween evening! I do love the delightfully creepy!
A few days before the party I sent around a little reminder to my guests:
"My dearest, darling ghoul
I've been busy mixing up spiders and gruel
For a Halloween night
That will give you a fright
See you on Saturday at 7pm, don't forget there's only one rule...
Please wear a costume! ;)"
Well I never laid claim to any poetic talents. So without any further dithering allow me, dressed as your Disneyland Haunted Mansion Maid wearing a costume made by my mother, to present you with my hellishly horrible Halloween party of 2011!
Press the doorbell to enter...
Blood punch
My esteemed guests, let us start with something to drink. Some blood punch Madam or Sir? Presented most delightfully in a clear blood fountain, the mistress of the manor likes to drink blood so she thought you might like to try some. Perhaps you'll get a taste for it like she has...
Please help yourself to anything on the dining table...it's all gruesomely edible...
Have you ever visited a pet cemetery? Here is a haunted graveyard dip made of an avocado, spinach and chickpea hummus dip where ghosts abound visiting tombstone crackers and pretzel fences keep them in.
If you haven't visited a dentist lately I wouldn't recommend these apple rotting teeth with caramel peanuts...
This was the brain of someone that displeased the mansion's mistress. She's a little despotic so she decided off with his head and that she would share it with all of you...
Oh dear, and here is the rest of the man that displeased the mansion mistress. Apart from being a despot she also has a nicer side and believes in nose to tail eating...So she thought that we should eat all of him from his bbq pork ribs to his spicy sausage intestines! With a bloody tomato sauce of course ;)
Made with freshly roasted pumpkin, smoked cheese and cream cheese this lil smokey pumpkin cheese ball was served with garlic bagel chips. Obviously not for the vampires amongst us...
The mansion mistress told me to go out and buy some blood so I did and I made some Finnish blood pancakes with blood clots. They're her favourite and seeing as she cuts off people's heads, I tend to follow orders.
And if guests are in need of cooling off, here are some ghost popsicles made with pear and apple blackcurrant juice-they feel as cold and dead as some of the ghouls that wander these halls!
Don't mind the fog coming up, that's perfectly natural at this time of year, especially in a dungeon...
This one I'm afraid is a mummy pizza. Not the mothering kind but a much more frightening kind.
Can I offer you a pumpkin pie ghost? I'm sure I'll get in trouble with the mansion mistress for these frightened little ghosties!
Here is the Rat Queen who lives in the basement with her families of rat brownies. She is watching over them as they devour a human arm...Sweet isn't it?
And a confidante Sheb told me about these Twisties ghost chips which I could only find at one service station where I randomly stopped to fill up the mistresses ancient Bentley! So of course I bought all four bags that they had. They taste like Toobs!
Now onto the recipes!
Did you make this recipe?
Share your creations by tagging @notquitenigella on Instagram with the hashtag #notquitenigella
Haunted Graveyard
At last year's Halloween party I dressed the dining table as a large graveyard with tombstones for every guest. This year the graveyard was a pet cemetery made out of hummus, avocado and spinach dip, with cracker tombstones, a pretzel fence, quail egg ghosts and broccoli and celery trees. Once the dip is made (and I ended up making a lot) putting it together and quite easy and fun and I was pleasantly surprised at how it turned out!
Click here for Halloween Graveyard Dip Recipe
Melon Brain
As soon as I saw this Halloween idea of a melon brain I loved it. Little did I know how exhausting peeling a whole watermelon is! Luckily Mr NQN stepped in as I was making slow progress getting the green off the melon and with some peeling and a few deft hacks we had a brain! For Halloween I wanted to have some sort of fresh fruit component as every year the weather is warm and people's costumes can be heavy so we try and keep guests refreshed-in the most morbid way possible of course ;)
Click here for Melon Brain recipe
Smokey Pumpkin Cheese Ball
This spooky, smokey pumpkin cheese ball is really easy to make and is best made the day ahead so that the dip can "set" so it's perfect for a make-ahead Halloween recipe. The recipe is inspired by Amy Sedaris's lil smokey cheesball and involves blending up cheeses together with some cold, previously roasted pumpkin and then placing it in a cling wrap lined bowl. Then just take a toothpick and run some lines down it like a pumpkin and then stick a bit of broccoli stem on top and some bagel chips around the side and you're done!
Click here to find recipe for Pumpkin Smokey Cheese Ball!
Blood Punch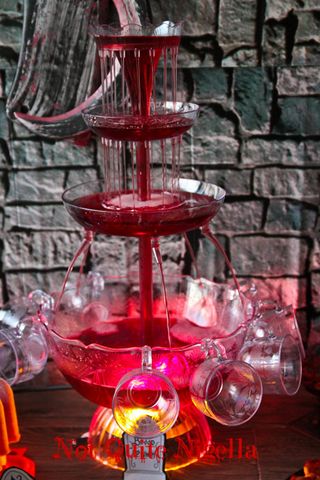 When Queen Viv first told me that Nigella had a clear drinks fountain and that I could use it to spurt out bloody looking drinks I was instantly sold. However in this case determination had to match desire as I looked everywhere for a clear drinks fountain and there were plenty of these in the US but none here and ebay sellers wouldn't ship it here. I finally found one place in Australia who had just one left and she sent to me. I put it together and voila, we had our blood spurting fountain! I'm hoping some True Blood vampires might stop by...
2 parts cranberry juice

2 part dark grape juice

1 part vodka
Step 1 - Mix all together and serve out of clear crystal fountain!
Rib Cage Ribs and "Intestines"
If you're feeling a hungry zombie crowd this Halloween do I have a great recipe for you! These Halloween "rib cage" ribs and "intestines" are just pork ribs and sausages but with a delicious sauce that makes them look bloody!
Click here for Rib Cage ribs and Intestines recipe
Ghost Cups
These little Ghost Cups are such a simple and fun Halloween party snack! On the base is a pumpkin pie filling topped with whipped cream "ghosts" on top. Add a couple of silver cachous or nonpareils for eyes and that's it! Make these closer to serving time or keep them in the fridge on a hot day so the cream doesn't sink.
Click here for Pumpkin Pie Ghost Cups Recipe
Rotting Apple Teeth
If you're looking for healthy Halloween recipe ideas then look no further than these Rotting Teeth apples! They're so fun to make and super effective looking and the best thing about these teeth is the more discoloured the apples get the more ghoulish they look! Just in case, I did soak the apple quarters in lemon juice water and then stuck in some peanuts mixed with dulce de leche or caramel into them. I did find the tooth adding process helped with some sharp knife digs and some fell out so you do need a bit of patience with these.
Click here for Rotting Apple Teeth recipe
Blood Pancakes
These blood pancakes or blodplättar (in Sweden), verilätty or verilettu (in Finland) are not a Halloween food but they're a traditional Nordic delicacy. They tastes very similar to black pudding with a bone marrow flavour to them. They are very rich and a few went a long way but they were actually quite nice and salty. I served with a cranberry sauce to give them a touch of sweetness. They actually turn a dark brown or black when done giving them more of an interesting look and could fool people at your Halloween party into eating them, if you wished to ;)
Click here for Blood Pancake recipe
Rat Bites
These ended up being one of the most popular items. Luckily I managed to find a massive nasty looking mother rat that looked like she was protecting her brood of baby rats feeding. Isn't that sort of a sweet picture? No? ;) OK let's move on then.
The recipe for Brownie Rat Bites is here
Mummy Pizzas
These Mummy Pizzas were very easy to make and can be made ahead of time (both prerequisites when you are making 14 items for a Halloween party). I keep them layered in the fridge with parchment between them and bake them halfway through the Halloween party so that people have something substantial to eat.
Recipe for Mummy Pizzas here
Ghost Popsicles
I was playing with my new ice block maker and I decided to do some pops for my Halloween party. Every Halloween party seems to be really warm (especially under a costume) and during the night we always play games so it's nice to offer a icy refreshment to guests. Keen eyed readers may notice that the sign says Vampire Popsicles. Well they were supposed to be icy pops where there was a filling of runny blood aka berry gel but that didn't work at all so I made it a simpler pop and cut out a ghost figure in a thin slice of pear, stuck it to the side of the pop maker and then poured apple and blackcurrant juice in it. Or you can stick the ghost pear on the outside of a frozen popsicle - when it is frozen most things will stick to an ice pop.
Click here for Ghost Popsicle recipe
Friday The 13th Hockey Mask Mushrooms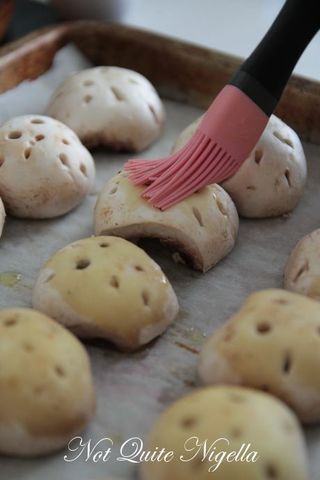 These Friday the 13th Hockey Mask Faces were a last minute addition to feed the vegetarians at Halloween. I roasted them but I think they look better raw and you can definitely see Jason from Friday the 13th in these mushrooms!
Click here for Friday The 13th Hockey Mask Mushrooms recipe
Haunted Mansion and Black Crow Cupcakes
Last week I posted the Haunted House cupcakes and I have a story on the black crow cupcakes to come. The crow cupcakes were also inspired by Zilly Rosen's fantastic Zombie Cupcakes book and are a combination of two cupcakes. The crows are meant to be picking at a bloody wound and they have a little flesh in their mouth. See? Who says that I don't bring you the prettiest stuff? ;)
Item #14: a surprise item coming up! Black Crow Cupcakes! ;)
And next I show you my lovely guests because a party isn't a party without guests!
A very sad and unhappy Haunted Mansion maid offers some shrunken mummified heads
A Gypsy pair then turn up with champagne-not your usual gypsies!
A pirate girl brandished a pirate's dagger to get the champagne!
Then a real Housewife of Atlanta turned up with big hair and a baby pumpkin
And then the Black Swan came out pirouetting!
While a pain lover showed us his scars and bandages..
Who is this?
It's Baba Yaga! Did you know about baba yaga? Apparently she was a witchy type that flies around on a pestle, steals children and lives in a house that has chicken's legs. Hence the baba yaga house!
And  here's my very own Harry Potter-Mr NQN learned how to do two spells in time for the party! Although don't tell him but he is a slightly dementor looking here...
A purple netted witch
Guests helped themselves to ribs and intestines cutting them up with scissors
And negotiated the fog around the table
Black Swan makes out with the two headed beheaded!
And as the crow knows, there's no party without games. Hidden in the house were references to five horror movies in the decorations. And Laporello was the first to guess all five which were: The Crow...
The Shining...
The exorcist...
As well as Sweeney Todd (the butcher shop sign) and Dracula (the hanging bats)!
Throughout the night we played the winking murder game which started with slips of paper in a skull bowl-one for every person present. There was one murderer and the rest of the guests were victims who had to die a certain, unique way. Once the murderer winked at them they had three minutes to die an elaborate and dramatic death such as being stung by killer bees, being burned to death, being scared to death and choking to death among others. The most Oscar winning performance won a prize and throughout the night, there were creative deaths including this one where we heard a loud scream from the bathroom only to see...
Laporello who had been shocked to death! And do you know who the murderer was?
The wizard spring onion above whispered to the ghost egg "It was Lorraine!". Yes, completely randomly, I had drawn the murderer card! I winked at people all night causing them to fall over and die a most dramatic, horrible death. And of course there were times when I didn't wink at anyone and they died-Miss America apparently had accidentally winked at some people so we had an inadvertent Red Herring which was brilliant for me to get away with things.
The performances of the dying were outstanding and there were times that we were worried about some people. Tuulikki's choking was very realistic we waited with bated breath to see her arm move and Alison enlisted the help of Mr NQN to create smoke with the fog machine while she was burning to death...
Now melted witchy, that's not nice, be nice to guests!
We ended off the evening with Halloween themed charades although it has to be said that one team's interpretation of scary was a little loose (i.e. tax and maths!). As always Miss America forgot which he was answering for and Queen Viv acting out Pauline Hanson was hilarious. And when I drew the show True Blood it took Alison all of two seconds once I acted out that it was a tv show with two words to guess correctly!
As the maid of the Haunted Mansion I'd like to thank you for being such delightful guests and coming with me on a tour of the Haunted Mansion curtsy
Love and ghouls,
Lorraine, The Haunted Mansion maid
xxx
So tell me Dear Reader, when you throw parties do you like to play games? And will you celebrate Halloween at all this year? And what is your favourite holiday of the year?