Dear Ghouls, Did you know that Halloween is on a Saturday night this year? That means it is party time! Here I share my top 5 tips for creating the perfect, ghoulish Halloween party! Find ideas to suit every budget and cooking ability and learn how to make the most of your costume, food, venue and guests. Lights, camera, action!
---
Quicklinks:
---
I think the reason why I love Halloween so much is that it is an entirely different sort of holiday from anything else. The rest of the year is spent doing pretty things and it is nice to be able to do something downright strange or the opposite of what you're used to. I'm all up for unusual dinners or parties and so is Mr NQN. However a few years ago there was one party that we had to question.
It's the time of the year when I get a little bit crazy. Emails go unanswered, phone calls unreturned and I only answer to the name Morticia for I bury myself under a black velvet witch's cloak and plan my Halloween. I get very ambitious and mad when it comes to my annual Halloween party but it's my favourite event of the year. Often I am asked for tips on throwing a Halloween party and this year I thought I'd share my top 5 Halloween party tips with you! Because as you may know, Halloween this year is on a Saturday so that means that it's the perfect night for a party!
Morticia Elliott's Top 5 Halloween Tips!
Tip 1: Choose your venue. I wanted somewhere new creatively speaking than our apartment which is very small. As luck would have it I searched online and found this house in Paddington. It was absolutely perfect with red walls and walls of paintings and eccentric, gorgeous touches. It already had an air of European Gothic.
I cleared the idea of a Halloween soiree with the owners first. We knew that we had somewhere very special to hold our party and a couple of days before I checked out the house just to see what it needed. Admittedly it wasn't inexpensive to rent and took up most of the budget (the rate was over double once cleaning, party and service fees were added).
Tip 2: Decorate while channelling your inner Morticia Addams. Every year in Australia the Halloween decorations get crazier and more varied. I always go the The Party People in Drummoyne and Sans Souci for supplies for two reasons. The first is their range of decorations. You can get anything and everything there from cutlery and plates to the most complex animated props.
Our personal favourite was a zombie lady who had an alien baby coming out of her stomach. The alien baby was motion activated and extended out through an opening in the front of her dress. Honestly who even thinks this up? :) But don't despair if you have little to no budget, variety stores have plenty of things and a bag of spider webbing can do wonders (and lasts for ages). Another idea is to buy 3 sheets of black cardboard and cut out bats in various sizes and stick them to walls or windows. Or take a roll of masking tape and "draw" dead body outlines on the ground (get someone to lie down and trace around them with the tape).
Home made bats and masking tape dead body outline
Tip 3: Costumes are compulsory to get into the spirit - for my parties no costume = no entry! It really helps get into the spirit of things plus if people are meeting for the first time, there is something already that they can talk about. If you are wearing a home made costume you need to start weeks ahead of time and look on ebay or the shops etc. By now it's a bit late for this year's Halloween so if you are buying a pre-made costume go somewhere like The Party People (not sponsored, we bought Mr NQN's costume but they do loan us the props) because you can actually try the costumes on there. Buying online is easy but one size fits all costumes are a crap shoot. This year Mr NQN bought a Slenderman Morph Suit on ebay and it was hideous. Like completely laughable but he couldn't return it to the ebay store. So the night before Halloween when we went to The Party People to get props, he tried on six outfits before he arrived at one he liked. And it was FANTASTIC.
Tip 4: Monstrous Music. Halloween music is definitely needed to get everyone in the mood. There are plenty of sound effects online but you generally want tracks that are going to last a few minutes. I find that a mix of spooky sounds and popular Halloween friendly tunes really works well. Throw in horror movie theme songs, Thriller, Ghostbusters and the Rocky Horror Picture Show Soundtrack and you've got this. I have made my own three hour Halloween playlist public on Spotify so just search for "lorraineelliott" and my "Morticia" playlist and you are free to use it!
Carrie Varden cake (recipe here)
Tip 5: Food! Brains!! Food!!! No seriously, Halloween is the time to pull out anything ghoulish or gross. Think bloody, think ugly. Always make sure that you have plenty of savoury to go with the sweet. The following recipes range in skill and ease and I've indicated which ones are easy to difficult. The full recipes are below or in links. I made 13 items but don't feel the need to make as many (we really didn't need two cakes).
Welcome to Halloween Video!
Surprise creepy crawly cake!
This cake was for Nina and Rebecca because they are both gluten free. It's a pinata cake filled with fake cockroaches and centipedes. Realistically you don't need two cakes but I knew that Nina would happily take this cake home with her.
EKG Eclairs
One of the surprise hits were these EKG eclairs (recipe here). I made the eclair shells ahead of time and froze the unfilled shells for a week. On the day we just refreshed them in the oven until they were crisp and Belinda dipped them in an icing sugar icing and drew EKG stripes on top!
Bloody Small Intestines
Hands down my favourite item to make and eat at this party were these intestines. Filled with chorizo and cheese and brushed with blood aka tomato sauce these were fun to make and really tasty, plus filled the brief for savoury, hot food! We served these once all of the guests had arrived (and they made quite an entrance, see below ;)).
"Scream" Crostata
The one thing about having whole items is that guests are too polite to be the first one to cut into it. So start cutting up items and serving them to guests (or make individual ones). This was Belinda's favourite item and it is a vanilla crostata dough filled with raspberry and mixed berry jams.
Incinerated brain
In the week before the Halloween party, I neglected to cook regular food so the cabbage that I bought lay in the vegetable crisper. I remembered hearing about a barbecued cabbage idea and so I made a vegetarian version of this for Nina, the vegetarian.
Day of the Dead Calavera Sugar Cookies
These Day of the Dead Calavera sugar cookies (recipe here) are fun to eat or even to give out as take home gifts wrapped up in cellophane bags.
Dark Demon Cocktail
A night isn't quite complete without a cocktail and this Dark Demon cocktail, an adaption of a cocktail from Karma Cola is a balance of sweet and bitters, kind of like life no? We also served their organic blood orange sparkling water too.
Moonlight cupcakes
These Moonlight cupcakes didn't quite work out the way that I wanted but I still liked the concept so I'll revisit it next year...
Premonition cookies
Ever tried making chalkboard cookies? I'll share a recipe and the method for these in an upcoming post. We stuck them on a chalkboard with royal icing and people helped themselves to a premonition!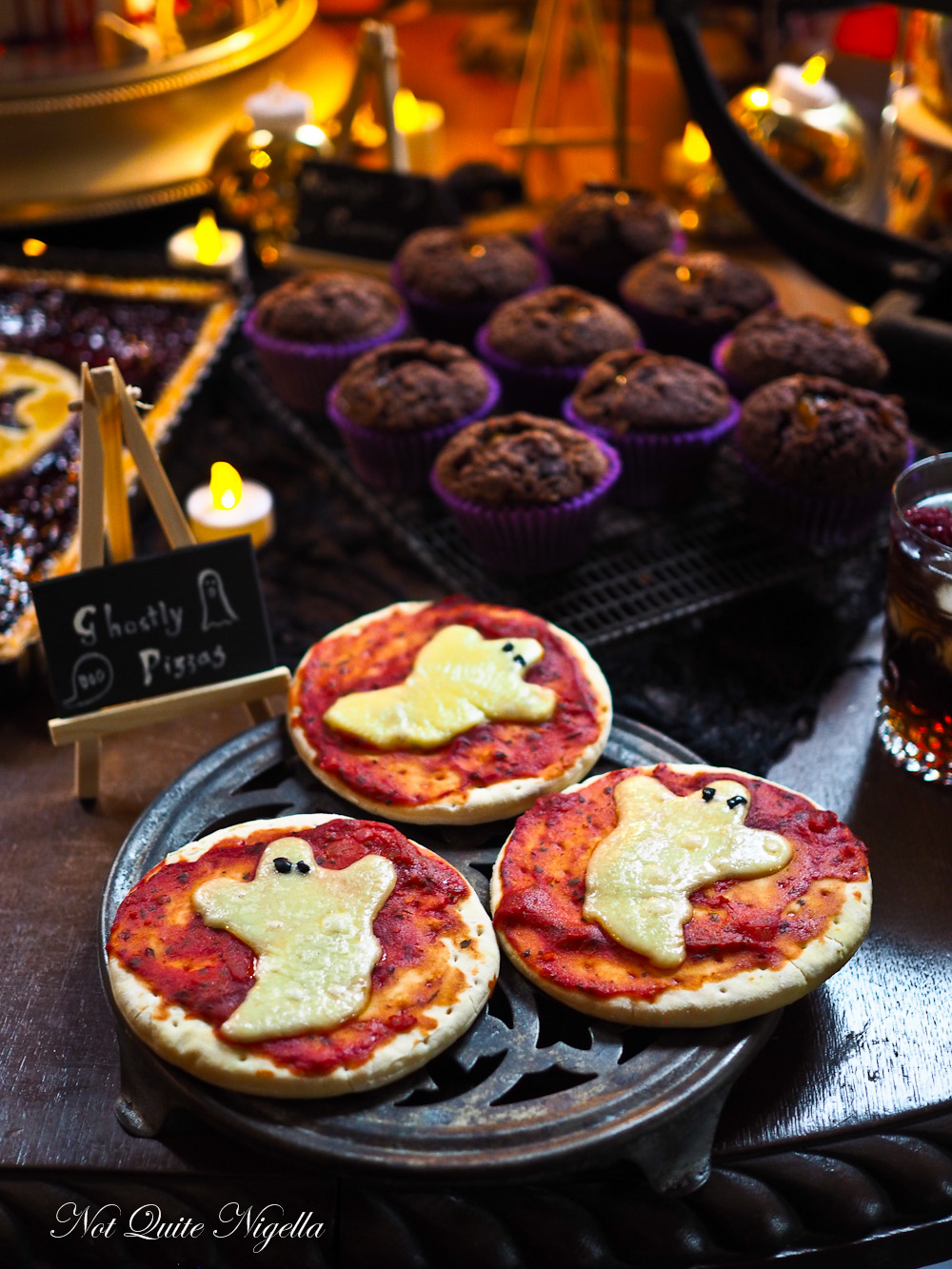 Ghost pizzas
I tend to over cater just because the idea of anyone going hungry fills me with cold, hard dread. And if you need something extraordinarily simple these ghost pizzas made with ghost cookie cutters are the easiest!
This is a fun kid's idea although we only had one kid at the party and that was 7 year old Raffles who is kind of like an adult. Still these are great because you can make them ahead of time and they are very cute (recipe here).
Vomiting pumpkin
I planned to just make a stuffed pumpkin and then lovely Eva sent me a link to a Buzzfeed Tasty video and I knew that the 3 avocadoes on my windowsill had a new destiny! It's a vomiting pumpkin for a fun way to serve guacamole and corn chips! In the top was a vegetarian black rice salad. But honestly could you get anything funnier than this?
Zombies eating intestines
And now read on Dear Ghoul for the recipes followed by a round up of our Halloween party this year!
So tell me Dear Reader, do you have any tips for throwing a Hallowe'en party? Will you be celebrating it this year? What is your dream costume or favourite costume? And which dish did you like the best?
DID YOU MAKE THIS RECIPE? Share your creations by tagging @notquitenigella on Instagram with the hashtag #notquitenigella
"Surprise!" Bug Cake
For the surprise bug cake, double the quantity in this chocolate quinoa cake and bake it in two 20cm/8inch round tins for 60 minutes and cool them in the tin and refrigerate them overnight. The next morning make a triple batch of chocolate coconut frosting (recipe for the chocolate coconut frosting is underneath the chocolate quinoa cake).
You will also need:
Creepy crawlies (edible for kids, I could only find plastic ones but most of my guests were adults)
100g/3.5ozs. dark chocolate
30g/1oz. white chocolate
Degree of difficulty: medium
Step 1 - Split each cake in half so you end up with four tiers. Place the first tier on a cake turntable. Spread with frosting. With the second and third cake tiers, take a 6cm/2.4inch round cutter and cut out a hole in the centre of each.
Step 2 - Spread the second and third tiers with icing in between and then pop the creatures in the hole. Place the last tier on top. Spread with a layer of frosting. Refrigerate for an hour.
Step 3 - Melt the dark and white chocolate separately. Spread out the dark chocolate across the top of the cake letting some drip down. Place the white chocolate in a small piping bag. Pipe white concentric circles on top of the dark chocolate (be sure to do this while it is still liquid and not set). Take a skewer or toothpick and draw a line from the centre to the edge of the cake to create a feathered, spidery effect. Allow to set. I find that this is best served with one piece cut out already so that guests can see the inside.
Bloody Small Intestines
This is so much fun and honestly how could chorizo and cheese ever go wrong? Be sure to make the "intestines" twisty and serve with extra ketchup/tomato sauce.
Serves: 20 people
Degree of difficulty: medium
Preparation time: 30 minutes
Cooking time: 25 minutes
800g/28.2ozs. chorizo sausages, skin removed
2 cups fresh breadcrumbs
1.5 cups grated cheese
375g/13.2ozs. packet filo pastry (21 sheets of filo pastry)
300g/10ozs. butter, melted
1/2 cup tomato sauce
Step 1 - Preheat oven to 200C/400F. Butter or oil a 37x25cm (14.8x10inch) rectangular baking tray with sides. Mix the sausage meat, breadcrumbs and cheese together and test for seasoning by cooking a small teaspoonful. Add salt if needed. Shape into thin sausage shapes of different lengths.
This looks terrible, I know.
Step 2 - Lay out one sheet of filo pastry on a clean surface and brush with melted butter. Add another sheet, brush again and then add one more sheet so you have three sheets of filo in total. Place the sausage mixture on the long end and roll up the pastry in a maze pattern like intestines. Repeat until the tray is full of burek.
Step 3 - Brush with the tomato sauce (for blood) and bake for 25 minutes. This can also be made ahead of time and frozen (unbaked).
"Screaming" Bloody Crostata
This "pasta frolla" or sweet shortcrust pastry is a soft dough and perfect to work with for this tart. If you haven't made pastry before do start on this one. It's soft and pliable and you don't have to roll it out to fill the tart tin, you just press it in and smooth with a small rolling pin.
Serves: 20 people
Degree of difficulty: medium
Preparation time: 15 minutes plus minimum 1 hour resting time
Cooking time: 30 minutes
2 cups plain all purpose flour
1/4 cup sugar
1 teaspoon vanilla bean extract
1/2 teaspoon salt
125g/4ozs. butter, cut into cubes and frozen
1/4 cup ice water plus more if needed
400g/14.1ozs. raspberry or mixed berry jam
1 tablespoon lemon juice
1 egg yolk
21x31cm (12x8inch) tart tin
Step 1 - Place the flour, sugar, vanilla and salt into a food processor and pulse for a few seconds to combine. Add the butter and pulse until you get sandy crumbs. In the funnel add the ice water until the crumbs become a bit larger (I needed 1 tablespoon more water to get there in addition to the 1/4 cup). However you don't want the dough to clump. Place the crumbs on a clean surface and bring it together until it forms a dough. Pinch off a smallish amount, about a quarter and wrap in cling film and refrigerate for at least an hour.
Step 2 - With the remainder of the dough, press it into the tin using a small non stick rolling pin to get an even surface. Cover with cling film and refrigerate for at least one hour.
Step 3 - Preheat the oven to 200C/400F. Remove the small quarter of dough and flour a clean surface. Roll out to an oval shape and cut out the Scream mask face. I just searched for a black and white drawing of it and approximated it with a paring knife. Place the pastry mask on a plate in the fridge until needed. Roll out the rest of the pastry to make a border.
Step 4 - Remove the tart base from the fridge and mix the jam and lemon juice. Spread the base with the jam reaching out to all corners. Brush some egg yolk on the sides and add the borders. Then add the scream mask in the centre and brush this with egg yolk. Bake for 30 minutes until the pastry is golden.
Cabbage Brain
I had no idea whether this would work and in the tradition of the insane, I decided to test it out on the night! It was quite tasty indeed although I think a version with bacon would be better. Because everything is better with bacon...
Serves: 20 people
Degree of difficulty: Easy
Preparation time: 30 minutes
Cooking time: 20 minutes plus 4 hours
1 medium sized cabbage
Oil for frying
4 onions, peeled and diced
3 rashers bacon, diced (I didn't use this as I wanted this to be vegetarian)
100g/3.5ozs. butter, cut into slices
1/2 cup bbq sauce plus 2 tablespoons
4 tablespoons grated parmesan or pecorino cheese
Step 1 - Preheat oven to 150C/300F. Heat a frypan to medium heat and then fry the bacon and onions until soft and caramelised. Set aside.
step 2 - Cut out the core of the cabbage with a sharp knife. Dig out a large cavity to put the filling in. Line a baking tray with foil or parchment and place the cabbage on the tray. If it doesn't sit flat then slice a bit off the bottom so that it lies flat. Fill with the bacon, bbq sauce, parmesan and half of the butter. Bake for 2 hours.
Step 3 - Remove from the oven and place the remaining butter slices between the leaves (the cabbage should have opened up somewhat) and brush the outside of the cabbage with the 2 tablespoons of bbq sauce. Return to the oven for another 1.5 or two hours until very soft.
Vomiting Stuffed Pumpkin
Makes: 1 large pumpkin with rice salad vomiting guacamole with chilli corn chips. Never thought that I'd be writing that sentence on the blog ever...
For black rice stuffing
Degree of difficulty: Medium (mainly carving which you will need a sharp knife for)
Preparation time: 30 minutes
Cooking time: 45 minutes
1/2 pumpkin, cut into small pieces
3 tablespoons oil
3 cups uncooked black rice (not glutinous)
1 teaspoon salt
12 dried shiitake mushrooms, rehydrated in hot water for 30 minutes
Oil for frying
3 onions
6 cloves garlic, peeled and finely chopped
300g Persian feta cheese and oil, crumbled
Step 1 - Preheat oven to 200C/400F. When ready, drizzle the pumpkin pieces with oil and roast for 25 minutes or until pumpkin is cooked through. Meanwhile put 4 cups of water onto the boil. Rinse the rice and then add salt and the 4 cups of boiling water. Allow to come to the boil and then knock back the temperature to a simmer. Cook for 35 minutes and do not remove the lid while cooking. Drain the rice and set aside.
Step 2 - While the rice is cooking, remove the stalk and slice the rehydrated shiitake mushrooms very thinly. Heat a saucepan and add oil and fry the onions until translucent. Add the garlic and fry until soft but be careful not to burn it. Add the rice and fry and add the mushrooms and feta cheese and mix to combine. Add the pumpkin to the mix and season to taste. You can serve this warm or cold.
Inauthentic but absolutely delicious Guacamole
3 avocadoes, ripe
1 small red onion, peeled and finely diced
1 small tomato, diced
1 tablespoon Thai sweet chilli sauce (the inauthentic bit)
2 teaspoons lime juice
Step 1 - Mash all ingredients together with a fork in a bowl. Cover until serving.
You will also need:
1 large pumpkin
A sharp paring knife
A sharpie or permanent marker
Cut out hole in the top of the pumpkin large enough to fit a bowl in snugly. Then cut a hole down the bottom where the mouth would be. Draw eyes and eyebrows with a Sharpie and place the bowl of guacamole underneath along with some corn chips.
Ghost Pizzas
I brought these out towards the end of the night, just in case people needed something else savoury to eat. They were just simple tomato based pizzas with mozzarella ghosts cut out on top and olives for eyes.
Serves: 12 people
Degree of difficulty: easy
Preparation time: 10 minutes
Cooking time: 8 minutes
12 mini pizza bases
1.5 cups pizza sauce
12 slices of mozzarella
Sliced black olives
You will also need a ghost cookie cutter
Step 1 - Line two trays with foil or parchment. Spread the pizza sauce on the pizzas and then using ghost cutter, cut out ghost shapes in the mozzarella and place on top. Cut up olive slices finely and add as eyes. Bake in preheated 180C/350F oven for 8 minutes.
Dark Demon Cocktail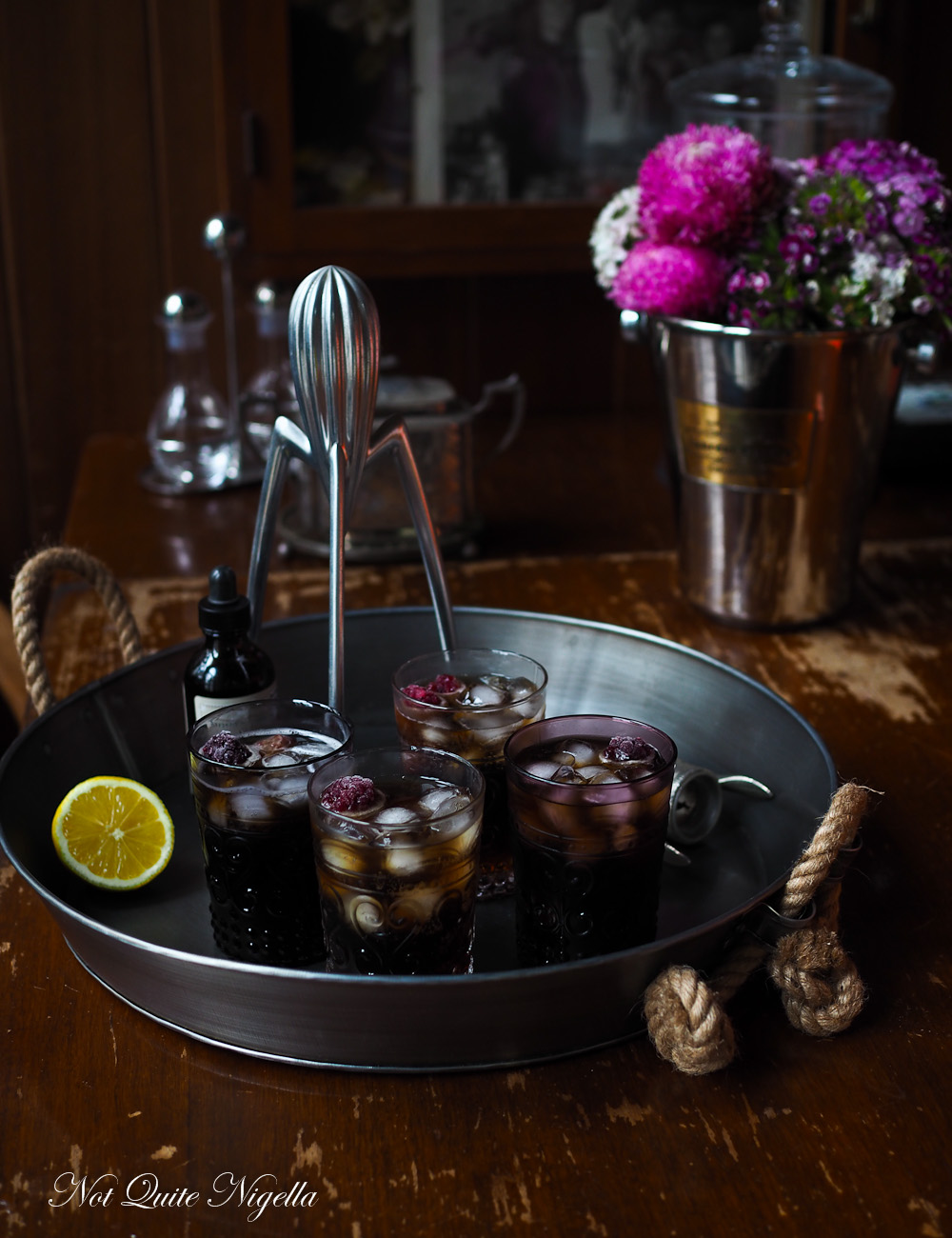 I loved using Karma Cola instead of regular Coke. Mainly because it is organic and uses cane sugar and hasn't got any numbers in the ingredients!
Makes 1 cocktail
Degree of difficulty: easy
Preparation time: 5 minutes
45ml/1.5 fl ozs. White Rum
15ml/0.5 fl oz. Fresh Lemon Juice
10ml/0.3 fl oz. Sugar Syrup
Dash Angostura Bitters
5 Blackberries
5 Blueberries
Top with Karma Cola
Step 1 - Muddle the fruit with lemon juice in your mixing glass, add the rest of the ingredients except Karma Cola, add ice, shake and strain into a tall glass, top with Karma Cola and garnish with blackberries and lemon.
Moonlight Cupcakes
To be honest I thought that these were a bit of a dud. I will probably revisit these at some stage in the future but the cupcake recipe was good so I am sharing it here!
Makes a dozen cupcakes
Degree of difficulty: easy to medium
Preparation time: 20 minutes
Cooking time: 30 minutes
1 1/2 cups white sugar
3/4 cups canola oil
3 eggs, at room temperature
3/4 c milk
2 tsp pure vanilla extract
2 cups cake flour*
1/2 cup cocoa, sifted
2 tsp baking powder
1/4 tsp salt
About 1 1/2 cup apricot or peach jam
You will also need a small moon cutter
Step 1 - Preheat oven to 180C/350F and line a cupcake baking pan with paper liners. With a whisk, whip the sugar and oil together in a large bowl for a minute. In a jug measure the milk and then whisk the eggs and vanilla in. Whisk into the egg mix until well combined.
Step 2 - In a separate bowl, mix together flour, cocoa, baking powder, and salt. Gradually beat dry ingredients into wet until just combined, making sure not to over-mix. Place into a jug and pour into the cupcake liners stopping just 4mm or 1/8 inch under the top. You want these to puff up to make a nice dome. Bake for 30 minutes or until a skewer inserted comes out clean. Allow to cool completely.
Step 3 - Using a sharp knife, slice off the tops of the cupcakes reserving the tops. Spread a teaspoon of jam on the cut area and then turn the top upside down. Cut with a cookie cutter and than replace the top back on the cupcake.
And then on the day...
Me as Carrie
I could only get the house on Friday night which wasn't ideal but sometimes fate deals you a hand and you have to roll with it. That meant that some friends couldn't make it but it ended up being a great mix of people on the night. One thing about my friends: they are like my readers, they're the best people ever. They will happily talk to everyone and are welcoming so there are no unwelcoming cliques.
Mr NQN as a sumo wrestler
Belinda and Mr NQN had kindly taken the day off work to help me prepare for the party. They were beyond amazing. While I was prepping the food, they both decorated the house like ghoulish little fairies. Honestly they were so creative and did a much better job than I ever could.
The first guest to arrive was Julie who changed into her outfit at work. Her altered appearance elicited a scream from a colleague which I would say is a total win. And when the flash went off to take the photo the animated woman with the alien baby went off which is why she is laughing in the second pic! Surprise!
Next is Rebecca and Jason who drove all the way from Canberra! They came as a steam punk couple. Rebecca found most of her outfit at a Vinnies store while Jason joked that he had his whole outfit already (I think he was joking!). They ended up staying the night here in one of the bedrooms and helped us pack up and move out which was very nice of them.
The Wizard arrived next as a monk. If you know how active he is with dating, you'll know how truly ironic that is. And as per his personality he started off trying to ward off the alien baby lady with his cross only to find that he truly had a case of the beer goggles and made out with her. Yo, check her Tinder profile Wizard!
As for Nina and Garth, she came as a skeleton performer based on several things she already had in her wardrobe and did her makeup herself using a youtube video! He came as Batman which is a costume that Nina actually wanted for herself! They probably had to wrestle each other for it knowing them... ;)
My seven year old boyfriend Raffles and his mum Aleney arrived next and he came as a zombie ninja because he is obsessed with Japan and Halloween while she came as Medusa! I think he looks just like a kid version of Heath Ledger as The Joker? Yes? No? Anyway he and Mr NQN bonded and he thought that he was the coolest Sumo wrestler ever.
Belinda had to leave for parental duties in the afternoon and returned as a ghost ship princess. She was so busy with work that week that she wasn't able to get her costume and texted me when we were at The Party People. So I just picked up her outfit and luckily it fit her perfectly!
JY and Ben decided to come as The X Files' Mulder and Scully complete with blow up aliens. And don't ever mess with JY when it comes to a competition. When she heard that we had hidden 48 wrapped chocolates throughout the house she, Ben, Julie, Rebecca and Raffles ended up finding most of them!
Girl Next Door always gets quite creative with her outfits and this year she came as an Adult Colouring In Book complete with textas!
The Wizard's brother The Warlock arrived straight off a plane from Brisbane. The Wizard fooled us by saying that they were coming as a dynamic duo and we thought that we might have two Batmans on our hands for a second!
And then Queen Viv and Miss America arrived as two former foes, now united in adversity and circumstance: Julia Gillard and Tony Abbott. For overseas readers that perhaps don't know who they are, they are two recent former Australian Prime Ministers. Apparently it is true when people say that anyone can be Prime Minister such is the swinging door to the post and I'm sure we'll all get our turn ;) Anyway, I was a tad disappointed that Miss America didn't wear Tony's red speedos. As you can see he tried to kiss and make up but Julia was not having it. They'll need more time under the bridge for that. Too soon Tony, too soon.
We started the party at 7:30pm and by 8:30pm everyone had arrived and it was around then that I served "dinner" or the hot food. The house had this wooden trolley so I placed the small intestine burek on it along with the cabbage brain and wheeled it out saying, "We have been busy operating...". I cut up pieces of the burek and people dipped them in the tomato sauce - served out of a kidney dish of course.
Batman aka Garth kept trying to challenge the Sumo wrestler aka Mr NQN to a wrestle. I'm not sure who would win because Garth wrestles as a hobby but he perhaps isn't quite used to as large an opponent. Mr NQN had to get used to his markedly larger frame (he's so thin he needed to stuff a pillow between his costume and stomach to fill it out). "Sit on me!" asked Raffles umpteenth times to Mr NQN who obliged in between being stabbed by his zombie ninja friend.
Usually we play a game of Halloween charades but everyone was talking animatedly that I hated to break up the conversation but next year, we'll have some great games up our sleeve that guests can play. Next year? Yep I've already thought of a next year's Halloween party already! It will be a long 11 months until then...
"Beware" the preminition cookies said...