Whilst I do like a buffet, they are fraught with key decisions. There are some that look at it like a war (which it can be with your stomach) where you need to make clear decisions devoid of emotion, your brain needs to separate itself from your tastebuds and stomach if you are to get your money's worth. And who doesn't in some way want to get their money's worth when they're at a seafood buffet. And after a hard day's Christmas sale shopping, food is inevitably on the mind.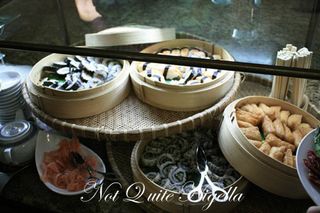 Like any military operation I had a pre-training regime consisting of steamed vegetables for lunch. This was prevent any more weight gain after SIFF, Austria and Christmas get togethers (I was still trying to lose _those _kilos and they certainly don't need any additional company).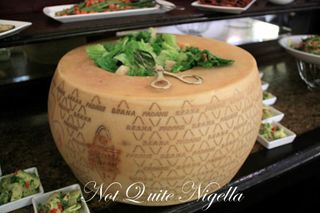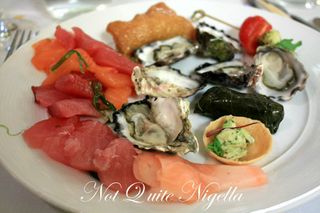 I walk in and survey the situation, call it reconnaissance while Mr NQN parked the car. There was a lot of seafood including crab, yabbies, Crystal Bay prawns, those strangely prehistoric looking Balmain Bugs (which always look to me like they should be found fossilised), sushi, sashmi (yes sashimi! You don't even have to make your own by leaving the rice behind from the sushi), a giant pan of paella, some hot food including Thai chicken cirry, steamed vegetables, roast beef and black bean mussels, plus a selection of salads, one served in a giant hollowed out Grana Padano cheese wheel. There's also breads, cheeses and dried fruit and desserts which we have a separate stomach for.
We start with a glass of French Champagne, the Delamotte Blanc de Blanc 1999 champagne which is lovely and starting with a glass of sparkles always puts us in a good mood and there's a fantastic quote from Madame de Pompadour in the menu which reads:
"Champagne is the only wine in the world that leaves women beautiful  after drinking"
Perhaps that excludes beer goggles ;)
I prise open a prawn and it's lovely and sweet and Crystal Bay prawns, with their softer shells are always sweet and delicious. It's times like this that I know that Mr NQN likes being married to me (the constant waiting for food to be photographed balances against this) as I am a mean prawn peeler. I had read somewhere that expert prawn peelers can peel a prawn in 3 steps and without trying to sound boastful, I am a quick 3 step prawn peeler (twist off the head, remove the legs and then the shell with a swift motion). So he is happy when I peel his prawns for him.
The crab is meaty but a bit bland for me but the yabbies are beautifully sweet as are the Sydney Rock Oysters.  The Peking Duck pancake station on Friday and Saturday nights churns out delicious Peking Duck pancakes-make sure you get one with the spring onion and hoi sin sauce as I first grabbed one without it and it was quite dry and not very exciting. I'd love it if there was a bit more skin and the duck was warmer though but considering that there's no limit, I'm not complaining.
I try the paella which is quite good indeed and packed full of seafood although when I got my second helping towards the end of the night it had dried out a bit. I give the hot food a little try too and I liked the thai chicken curry but let's be honest my eye was definitely on the Champagne Lobster which they grill to order. It's covered with a champagne cream sauce and is rather good indeed as it is freshly grilled (there's always room on my plate for lobster :P ).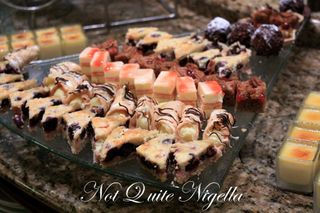 I gather a selection of the desserts which by now, look a bit cut up and hacked into due to the late hour. My mango topped coconut mousse cake is divine, like eating delicious air and the chocolate lollipops run a second favourite. "Would you like to try some of our a la carte menus" they ask and we take their recommendation of the Viennese Apple Strudel with Creme anglaise and vanilla ice cream and the Banana fritters in filo pastry. I know Mr NQN will adore the banana dessert and he does with banana fritter and chocolate inside a crisp, buttery filo package. It sits on a slice of banana bread and comes with a fabulous banana ice cream.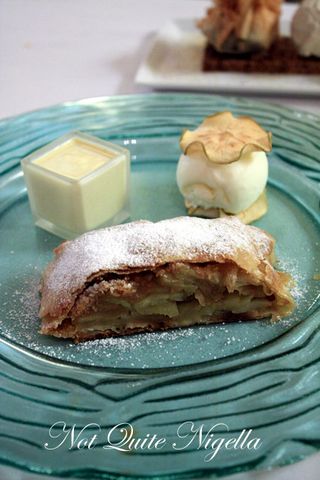 The Viennese apple strudel is delicious and I'm very happy to confirm that the pastry is just like the pastry used in the Daring Bakers Strudel recipe! The pastry chef Karl Biel is Austrian and this is very much like strudel that you get in Austria. Thoroughly stuffed, our white of surrender is slowly raised.
So tell me Dear Reader, do you feel that you get value for money at buffets?
Cafe Opera
Inter Continental Hotel
117 Macquarie St, Sydney, NSW
Tel: +61 (02) 9253 9000
Buffet price: $70 Sunday-Thursday for Seafood buffet; $95 Friday and Saturday for Seafood buffet with more selections