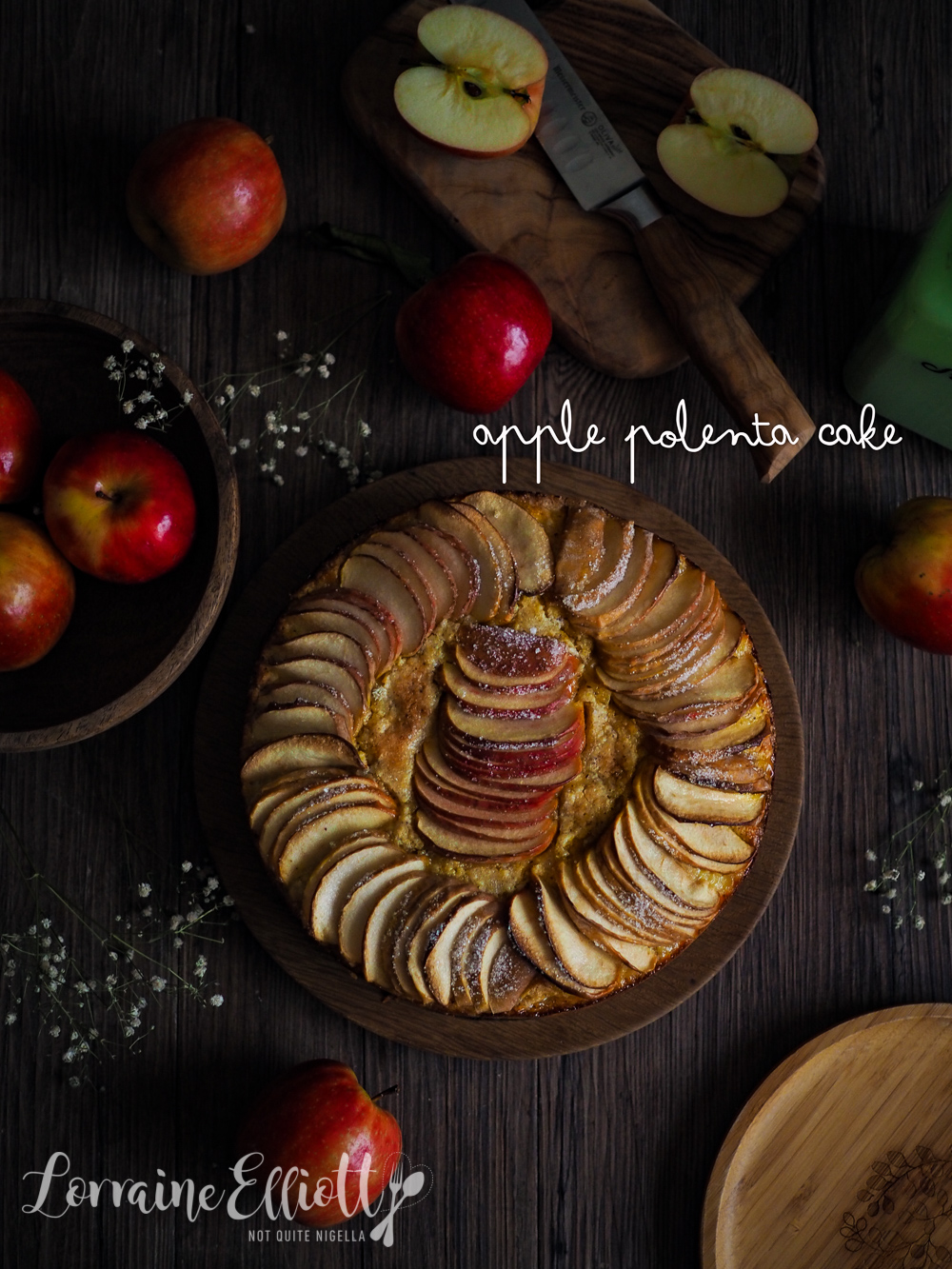 Looking for a delicious gluten free apple cake recipe? This apple, lemon, polenta and almond cake has no added butter or oil, it's full of the goodness from nuts, polenta and eggs! Soft and moist, it has a wonderful texture and a lovely lemon vanilla flavour. On top is a layer of sugared apples! I called her Sally.
This is such a wonderful, wholesome, country-style cake. In my mind there are country-style cakes made from fruit and pantry ingredients that are simple but comfortingly delicious and are guaranteed to please many. Then there are city cakes, ones with harder to find ingredients with unusual flavour combinations that may require special equipment.
Unlike gluten free bread which is hard to get just right, gluten free cakes are one of the easier items to make. This cake is also unusual in that there's no added fats. Instead this cake relies on the natural fats in the eggs and almonds to keep it wonderfully moist.
What exactly is polenta? Is polenta an ingredient or a dish? Polenta is technically a porridge dish made of coarse stone-ground cornmeal but we label it polenta in Australia. It doesn't have a lot of flavour but makes for wonderful porridge, polenta fries, creamed polenta, polenta gnocchi, lemon polenta cakes and one of my favourite winter dishes polenta alla spianatora which is a polenta and ragu served on a wooden board where everyone digs in with a spoon. There's even polenta lasagna (you know how much I love lasagna!).
I used apples because I always have so many from my vege box and I'm not a big fruit eater. These are Pink Lady apples so you get a gorgeous pink blush colour on top of your cake although this does fade a little upon baking.
I was inspired to make this cake by a visit to Milk Haus in Woodstock on the South Coast where they served up an apple, lemon and polenta cake with double cream on the side. It was so delicious I had to make a version.
I've been enjoying exploring NSW lately and these road trips have been the tether to my sanity that I cling onto. I can't imagine going into lockdown again so I really feel for everyone in Victoria.
We were driving in the country one day when out of the corner of my eye something black hit our tyre. It was the size of a large sneaker and sort of bounced off our car like a sneaker on the road.
"What was that?" I asked Mr NQN who was driving.
"We hit a bird," he said his lips tense.
"Is it...ok?" I asked. I mean I realised it was probably not but I was hopeful and up til a second ago I thought it was a sneaker.
"No it is not," he said grimly.
After I texted Laura that a bird had dived straight into our car. "We call that being a bird-urer, a bird murderer," she explained. With family in the country she was used to it but it was our first time being a birdurer and it wasn't a nice feeling!
So tell me Dear Reader, have you ever heard of the term bird-urer? Do you make more city or country style cakes?
DID YOU MAKE THIS RECIPE? Share your creations by tagging @notquitenigella on Instagram with the hashtag #notquitenigella
Apple, Lemon & Polenta Cake
Rated 5.0 out of 5 by 4 readers
An Original Recipe by Lorraine Elliott
Preparation time: 30 minutes plus 10 minutes cooling time
Cooking time: 55 minutes
Serves: 8
2 lemons
225g/8ozs. caster or superfine sugar
6 eggs
200g/7ozs. almond meal
150g/5ozs. polenta
1 teaspoon vanilla extract
1 teaspoon baking powder
1/2 teaspoon salt
5 apples, cored and thinly sliced
2 tablespoons sugar
Before cooking the lemons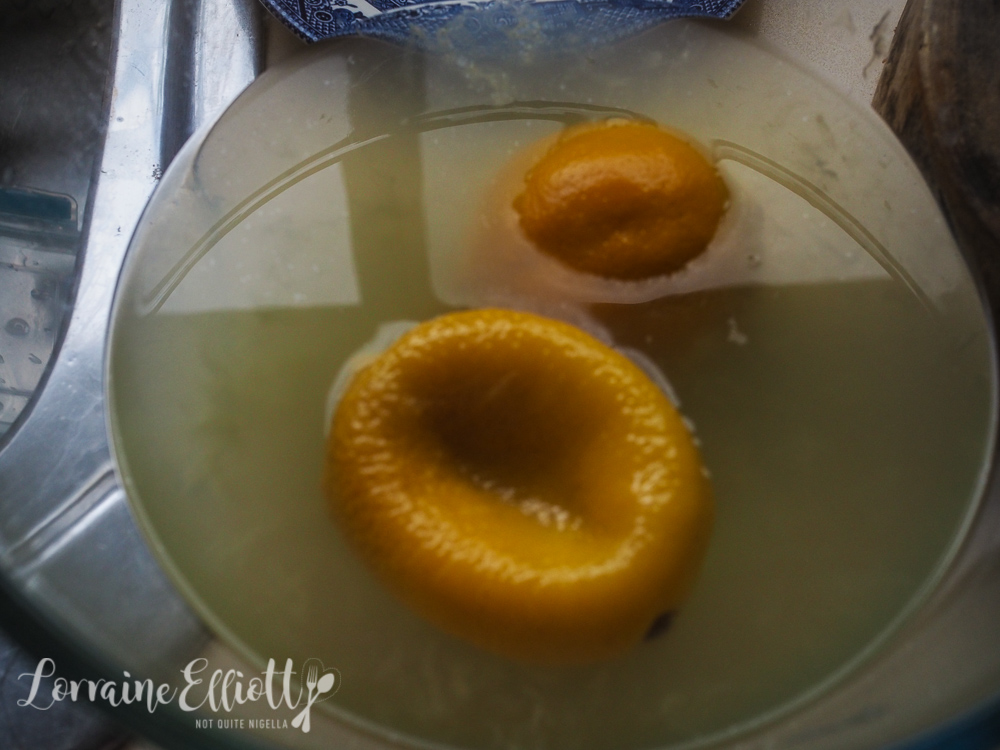 After cooking the lemons
Step 1 - Preheat oven to 160C/320F. Grease and line a 22cm/8.7inch springform tin. Wash the lemons well and place them in a microwave proof bowl and cover with 2 inches of water. Cover with cling film and microwave for 10 minutes. Remove the lemons, discard the water (you can make a hot honey and lemon drink out of it) and cool for 10 minutes. When the lemons are cool to handle, chop roughly peel and all and remove the seeds. Then puree the lemons until you get a smooth puree.
Step 2 - In a bowl whisk the sugar and eggs for 1 minute with a hand whisk. Add the almond meal, polenta, vanilla, baking powder, salt and the lemon puree. Add the slices from two of the apples. Spoon into the prepared tin.
Step 3 - Then fan out the slices from the remaining three apples on top of the cake. Sprinkle with the 2 tablespoons of sugar and bake for 55 minutes or the centre of the cake springs back when pressed gently. Serve with cream or ice cream.